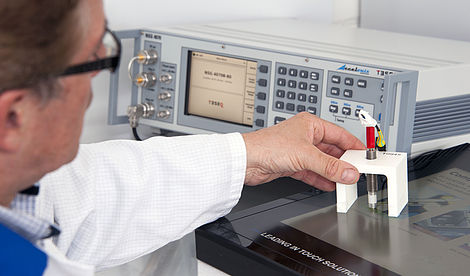 Eliminate interference in electrical systems and equipment with optimal EMC solutions
Schurter and Alcom will be pleased to work with you to find the optimal EMC solution for your specific application. On your behalf, we conduct EMC tests, provide interference suppression for your equipment, fabricate specific product samples for you and support your product life cycle from development all the way to series production. In addition to customer-specific products, you can also get a wide selection of standard EMC products.
Highest quality and absolute reliability – SCHURTER makes this guarantee for every one of its products. State-of-the-art machinery and the latest technical know-how guarantee that we live up to our motto "safe and clean supply of power, while making equipment easy to use."
Our expertise includes injection molding, metalworking, electroplating, assembly using automated manufacturing systems, casing system design and manufacturing plus the assembly of circuit boards and complete EMC products.
More than 50 engineers, working with the latest tools, are dedicated to the development of products and manufacturing systems. SCHURTER offers its customers a broad range of products for ensuring electromagnetic compatibility (EMC).
SCHURTER's product line includes the following items for eliminating interference in electrical systems:
Power entry modules with line filters
1-phase block filters
3-phase block filters
Chokes
Customer-specific filters and inductive components
Datasheet
Datasheet
Datasheet
Datasheet