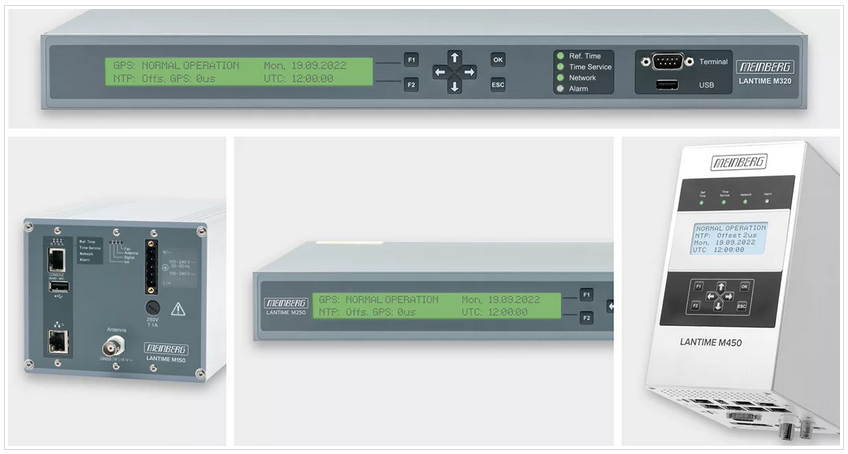 Meinberg Announces Latest Series of NTP Servers for Time & Frequency Synchronization
Meinberg is proud to announce the launch of several new time servers to build upon the success of its popular LANTIME systems. We are already accepting orders for the Meinberg LANTIME M150, LANTIME M250, LANTIME M320, and LANTIME M450.
These new time servers make use of a Intel Atom E3805 system-on-module with a dual-core CPU clocked at 1.33 GHz, 2 GB of onboard DDR3L RAM, and 4 GB of eMMC flash storage memory, providing three to five times the performance of their predecessor systems.
The LANTIME M150 and LANTIME M450 are rail-mounted time servers for industrial use that provide enterprise-grade NTP performance with up to 25,000 NTP requests a second. Both now feature a 10/100/1000-BASE-T Gigabit Ethernet interface for superior network performance, while the LANTIME M450 also provides optional electrical and optical synchronization signal outputs as well as frequency outputs for a variety of applications, most notably for the power and telecommunications industries, as well as an additional SFP port for expanded network connectivity.
The LANTIME M250 is Meinberg's high-performance desktop NTP server solution, providing reliable synchronization with an upgrade to a 10/100/1000-BASE-T Gigabit Ethernet interface and up to five times the NTP performance of the LANTIME M200.
The LANTIME M320 is a drop-in replacement for Meinberg's flagship M300 servers and is available in exactly the same I/O and hardware configurations. This versatile system is built to order with a receiver to enable you to synchronize your server to the remote timing signal that you trust and can be customized with the time & frequency synchronization signals that you need for your application. The new M320 now also benefits from the five-fold increase in CPU performance when compared with its predecessor for a remarkable increase in NTP performance and an even more comfortable user experience.
With the launch of these new greatly improved LANTIME models, Meinberg will be withdrawing the existing LANTIME M100, M200, M300, and M400 systems from sale with effect from December 31, 2022. The LANTIME M900, which Meinberg has already been 'unofficially' phasing out in cooperation with longstanding customers, will also be formally withdrawn from sale with effect from the same date.
The now-discontinued products have served our customers well for over a decade, and looking ahead, this new generation of LANTIME systems will continue to reliably meet customers' synchronization needs. For future projects or replacements, users of our LANTIME M900 time servers are encouraged to consider our IMS LANTIME M3000 platform, which offers modular customization and even greater flexibility and performance compared to the M900.
The new LANTIME models will be powered by the same robust LANTIME OS that longtime users of Meinberg LANTIME servers will already be familiar with. Both new and existing models will continue to receive the same software updates and new features, and owners of the existing models will of course continue to receive the same lifetime technical support, repair & replacement services that they are accustomed to.
Meinberg looks forward to making use of the power afforded by the new systems to provide even more innovative and groundbreaking synchronization and server management features.
For more information, contact CN Rood!