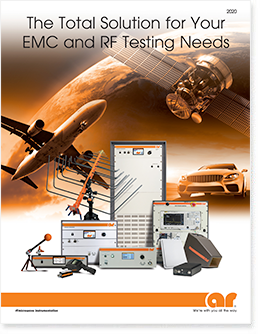 New AR RF/Microwave 2020 Catalog
New 2020 catalog covering the Total Solution for Your EMC and RF Testing Needs
---
The new AR RF/Microwave comprehensive full line catalog includes everything necessary for RF and EMC testing. You'll find important information on everything from RF and Microwave Amplifiers to Antennas, Probes, Analyzers, Accessories, and Integrated Test Systems that make testing quicker, easier, and more accurate. AR has distinguished itself as a single-source provider with the ability to design, build, and service industry-leading EMC test and RF chambers. AR delivers innovative technology, advanced design, quality workmanship, mismatch capability, durability, longevity, less cost per watt, and a worldwide support network that's with you all the way.
Download new AR RF/Microwave 2020 catalog
---
2020 AR RF/Microwave U serie Amplifier catalog
Request Printed Catalog
---
For those that prefer a printed catalog can request a copy by contact AR Benelux  by phone at (+31) (0)172 423 000 or by filling out the online inquiry form.