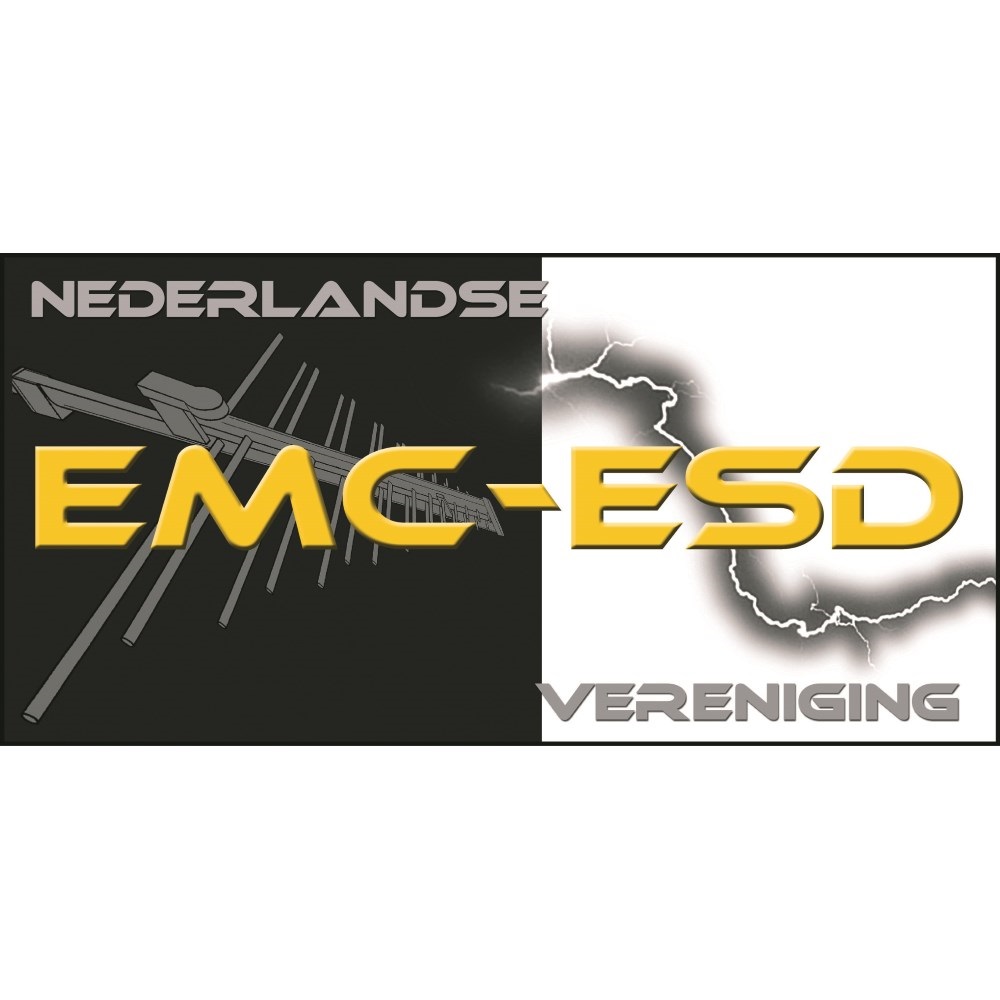 Verslag van bijeenkomst NEC EMC
Op 2 februari heb ik (Jan Kees van der Ven) voor het eerst deelgenomen aan het overleg van NEC EMC namens de Nederlandse EMC-ESD vereniging. NEC EMC is de Nederlandse normcommissie die vooral de activiteiten Europese -CENELEC- en mondiale -IEC- normcommissies volgt en beïnvloedt die zich met EMC onderwerpen bezighouden. Hoewel we fysiek uitgenodigd waren voor dit overleg door Prodrive Technologies, werd het weer vanwege de Corona maatregelen een online vergadering. Het zou interessant zijn als we volgende keer daar wel op bezoek kunnen komen, dus wie weet.
Na een korte introductie begonnen we met het echte werk, het doornemen van de normen waar op dit moment aan gewerkt wordt en overige documenten, die het toekomstige beleid bepalen. Ik wil even een paar onderwerpen noemen waarover gesproken is:
Er is besloten een amendment uit te geven voor de IEC 61000-6-3 waarin voortgeleide emissielimieten worden gedefinieerd in het frequentiespectrum van 9 tot 150 kHz, welke aansluit op de IEC 61000-2-2. Hierbij werd opgemerkt dat er in het voorstel aanzienlijke verschillen zijn met de CISPR 15 limieten in dat frequentie bereik.
In de IEC 61000-4-6 wordt gewerkt aan multi-tone testen.
Er wordt een werkgroep opgezet die meetmethodes en meetonnauwkeurigheid in het frequentiebereik van 18 tot 40 GHz gaat behandelen.
Tot slot was er nog een interessante discussie of nieuwe EMC normen alleen geïntroduceerd mogen worden als er een significant aantal problemen zijn geweest of dat dit ook al op voorhand mag gebeuren, bijvoorbeeld op grond van te verwachten technologische ontwikkelingen.
Onderaan dit artikel zijn de normen in tabelvorm opgesomd waarvan binnen afzienbare tijd nieuwe uitgaven te verwachten zijn.
Naast het bespreken van de normen was er ook tijd voor wat andere onderwerpen. Zo werden er voorbeelden gegeven van EMC problemen, die ontstaan door een slechte kwaliteit signaalkabels. Daarnaast was ik gevraagd een presentatie geven over de inpassing van EMC normen binnen de maritieme omgeving en de uitdagingen waar we tegen aanlopen.
Mocht u naar aanleiding van het bovenstaand artikel interesse hebben gekregen in normalisatie, meldt je dan aan voor de NEC –EMC schaduwcommissie van de vereniging. Tegen een geringe vergoeding:
Krijg je toegang krijgen tot de normen die in behandeling zijn.
Kun je commentaar daarop indienen.
Via de stem die we als vereniging hebben meebeslissen welke normen goedgekeurd worden.
Wilt u nog actiever betrokken zijn en persoonlijk stemrecht hebben dan kunt u zich natuurlijk ook direct aanmelden bij het NEN voor een lidmaatschap van NEC-EMC.
Jan-Kees van der Ven
| | |
| --- | --- |
| CISPR 11 ED7 | Industrial, scientific and medical equipment - Radio-frequency disturbance characteristics - Limits and methods of measurement |
| CISPR 12 ED7 (CD) | Vehicles, boats and devices with internal combustion engines or traction batteries – Radio disturbance characteristics – Limits and methods of measurement for the protection of off-board receivers |
| CISPR 15/AMD1 ED9 (ACD) | Amendment 1 - Limits and methods of measurement of radio disturbance characteristics of electrical lighting and similar equipment |
| CISPR 16-1-4 ED5 (PCC) | Specification for radio disturbance and immunity measuring apparatus and methods - Part 1-4: Radio disturbance and immunity measuring apparatus - Antennas and test sites for radiated disturbance measurements |
| CISPR 16-1-4/AMD2 ED4 (AFDIS) | Amendment 2 - Specification for radio disturbance and immunity measuring apparatus and methods - Part 1-4: Radio disturbance and immunity measuring apparatus - Antennas and test sites for radiated disturbance measurements |
| CISPR 16-1-6/AMD2 ED1 (PBUB) | Amendment 2 - Specification for radio disturbance and immunity measuring apparatus and methods - Part 1-6: Radio disturbance and immunity measuring apparatus - EMC antenna calibration |
| CISPR 16-2-3/AMD2 ED4 (PRVC) | Amendment 2: Measurement method for radiated disturbance measurements below 30 MHz |
| | Specification for radio disturbance and immunity Measuring apparatus and methods – Part 4-6: Uncertainties, statistics and limit modelling – Statistics on radio frequency interference (RFI) and verification by measurements in the field |
| CISPR 32 ED3 (ACD) | Electromagnetic compatibility of multimedia equipment - Emission requirements |
| CISPR 35 ED2 (ACDV) | Electromagnetic compatibility of multimedia equipment - Immunity requirements |
| CISPR 36/AMD1 ED1 (CDM) | Amendment 1 - Electric and hybrid electric road vehicles - Radio disturbance characteristics - Limits and methods of measurement for the protection of off-board receivers below 30 MHz |
| CISPR 37 ED1 | Industrial, scientific and medical equipment – Radio-frequency disturbance characteristics – Limits and methods for measurements in situ and at defined sites |
| CISPR TR 31 ED3 (CDM) | Database on the characteristics of radio services |
| IEC TR 61000-1-1 ED2 (CD) | Electromagnetic compatibility (EMC) - Part 1-1: General - Application and interpretation of fundamental definitions and terms |
| IEC 61000-2-4 ED3 (CD) | Electromagnetic compatibility (EMC) - Part 2-4: Environment - Compatibility levels in industrial plants for low-frequency conducted disturbances |
| IEC 61000-2-9 ED2 (ACD) | Electromagnetic compatibility (EMC) - Part 2-9: Environment - Description of HEMP environment - Radiated disturbance. Basic EMC publication |
| IEC 61000-4-2 ED3 (CDM) | Electromagnetic compatibility (EMC) - Part 4-2: Testing and measurement techniques - Electrostatic discharge immunity test |
| IEC 61000-4-20 ED3 (PRVS) | Electromagnetic compatibility (EMC) - Part 4-20: Testing and measurement techniques - Emission and immunity testing in transverse electromagnetic (TEM) waveguides |
| IEC 61000-4-23/AMD1 ED2 (ACD) | Amendment 1 - Electromagnetic compatibility (EMC) - Part 4-23: Testing and measurement techniques - Test methods for protective devices for HEMP and other radiated disturbances |
| IEC 61000-4-24/AMD1 ED2 (AFDIS) | Amendment 1: Electromagnetic compatibility (EMC) - Part 4-24: Testing and measurement techniques - Test methods for protective devices for HEMP conducted disturbance |
| IEC 61000-4-29 ED2 (ACD) | Electromagnetic compatibility (EMC) - Part 4-29: Testing and measurement techniques - Voltage dips, short interruptions and voltage variations on d.c. input power port immunity tests |
| IEC 61000-4-30 ED4 | Electromagnetic compatibility (EMC) - Part 4-30: Testing and measurement techniques - Power quality measurement methods |
| IEC 61000-4-41 ED1 (ACD) | Electromagnetic compatibility (EMC) - Part 4-41: Testing and measurement techniques - Broadband radiated immunity test |
| IEC 61000-4-6 ED5 (CD) | Electromagnetic compatibility (EMC) - Part 4-6: Testing and measurement techniques - Immunity to conducted disturbances, induced by radio-frequency fields |
| IEC 61000-5-6 ED1 (ACD) | Electromagnetic Compatibility (EMC) – Part 5-6: Installation and mitigation guidelines – Mitigation of external EM influences |
| | Amendment 1 Electromagnetic compatibility (EMC) - Part 6-3: Generic standards - Emission standard for equipment in residential environments |
| IEC TR 61000-1-4 ED2 (CDTR) | Electromagnetic compatibility (EMC) - Part 1-4: General - Historical rationale for the limitation of power-frequency conducted harmonic current emissions from equipment, in the frequency range up to 2 kHz |
| IEC TR 61000-5-1 ED2 (CD) | Electromagnetic compatibility (EMC) - Part 5-1: Installation and mitigation guidelines - General considerations |
| IEC TS 61000-3-16 ED1  (ACD) | Electromagnetic compatibility (EMC) - Part 3-16: Limits - Limits for currents produced by the inverter of inverter-type electrical energy-supplying equipment with a reference current less than or equal to 75 A per phase connected to public low-voltage systems |