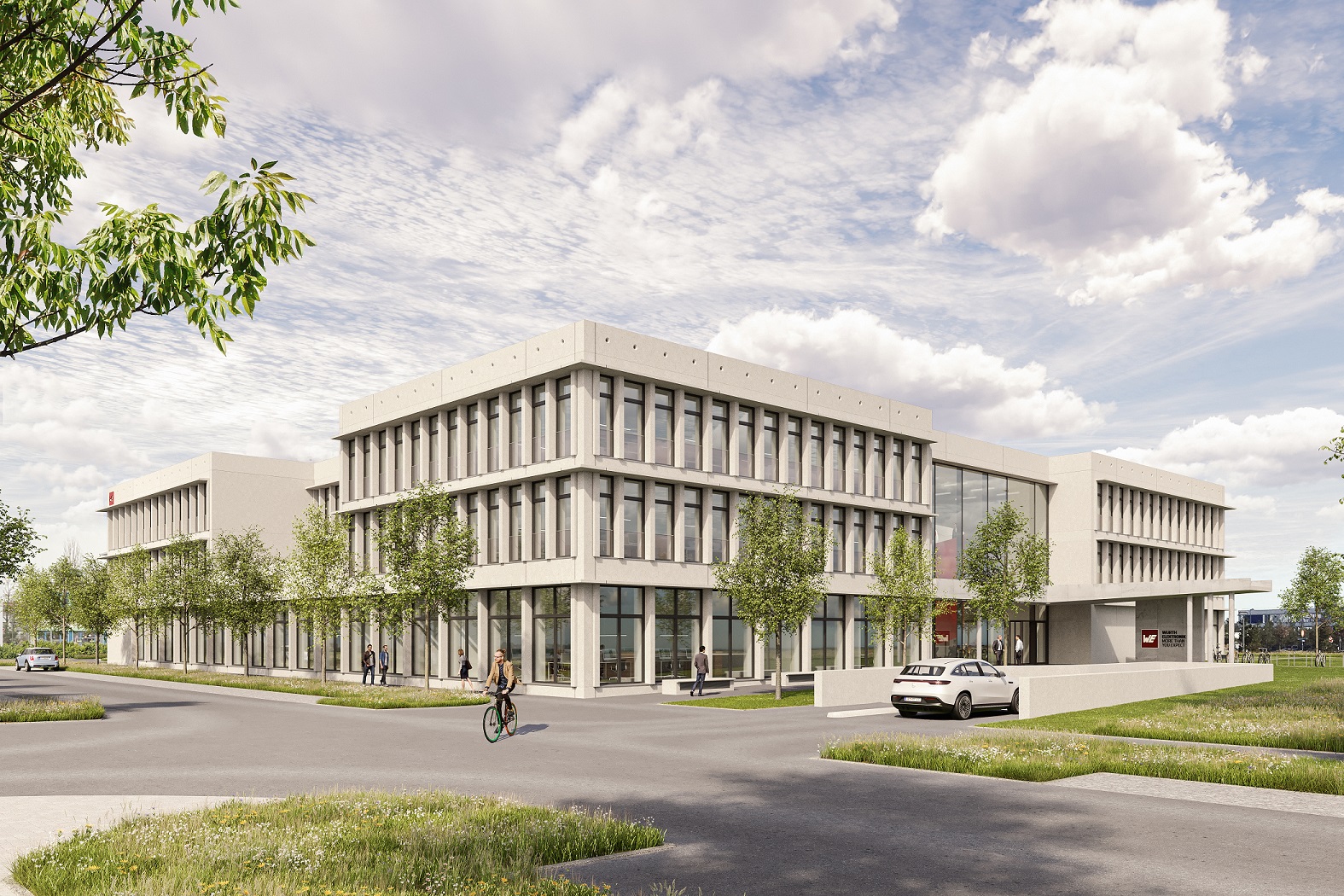 Würth Elektronik opens High-tech Innovation Center
Innovation to Serve the Customer
Munich (Germany), April 6, 2023 – Enabling innovation and growth – these are the main objectives of Würth Elektronik's High-tech Innovation Center (HIC), officially opened in Munich-Freiham on April 3, 2023. The new high-technology site focuses on partnership with customers, research institutions, start-ups, and semiconductor manufacturers.
A successful entrepreneur for 73 years, with almost EUR 20 billion in sales at the Würth Group in 2022: Prof. Dr. h. c. mult. Reinhold Würth, Chairman of the Supervisory Board of the Würth Group's Family Trusts, could actually sit back and relax. But anyone familiar with the 87-year-old knows that he is still a visionary who is interested in the future like nothing else.
Relocation to a creative future
Because part of this future is now being driven in Munich-Freiham, the prominent Baden-Württemberg entrepreneur traveled to the Freiham-Süd Industrial Park for the inauguration of the High-tech Innovation Center. Albert Füracker, Minister of State for Finance and Home Affairs, was there as a representative of the Bavarian State Government. "We are impressed by what has been created here," praised Würth at the ceremony. "I'm looking to provide a workplace for employees that is defined by friendliness and optimism."
Reinhold Würth always sees the customer in focus, however: "I'm a salesman with all my heart and know that customers have enabled our success," Prof. Dr. h. c. mult. Reinhold Würth affirmed and emphasized that success was built upon the trust earned from customers. Modesty, predictability and honesty are at the core of corporate culture.
Thomas Schrott, CEO of Würth Elektronik eiSos and Business Unit Manager of the Würth Group, thanked Reinhold Würth, who had personally supported the investment at the Munich site: "We'll show our gratitude with action," Schrott promised.
Engineers and scientists explore high tech at the new site covering 10,770 m² of floor space: wireless connectivity, sensors, power modules, optoelectronics, power transformers and custom inductors, design and development kits, seminars and continued cooperation with the Technical University of Munich. At the heart of the HIC is a major test field with two EMC test chambers in which electromagnetic compatibility can be tested.
Growth space for ideas in Munich
"Munich is the ideal high-tech site," Robert Friedmann, Spokesman of the Board of Directors of the Würth Group, affirms, "not least because of its proximity to universities and to important cooperation partners from the semiconductor industry."
The new HIC accommodates 250 employees. At present, 160 experts from 29 nations search day in, day out for insights that enable innovations, for technologies that advance the industry, and for ideas that improve our planet. And the conditions are ideal: All workplaces are equipped in line with the latest New Work approaches, the space concepts promote creativity, and employees can switch between communicative togetherness and contemplative retreat. "The HIC is a growth space for ideas," HIC site manager Oliver Opitz puts it in a nutshell. A site with potential for expansion: because the next construction phase will create another 250 jobs.
"The Champions League of modern transformation"
In his video greeting, Bavaria's Minister President Dr. Markus Söder praised Würth Elektronik as "one of the most modern companies we have. This is the Champions League of modern transformation." Bavaria's Minister of State for Finance and Home Affairs, Füracker, stated in his address: "The Würth Group has developed from a small two-person outfit into a major global corporation with over 85,000 employees and has always remained a family business – a truly impressive story. Family businesses think in generations, not quarters. This success story is set to continue with the new Innovation Center in Freiham."
'WE enable to grow', was the motto at the opening ceremony: As soon as Reinhold Würth had written the first entry in the HIC guest book, he set seeds in a raised bed using the same pen.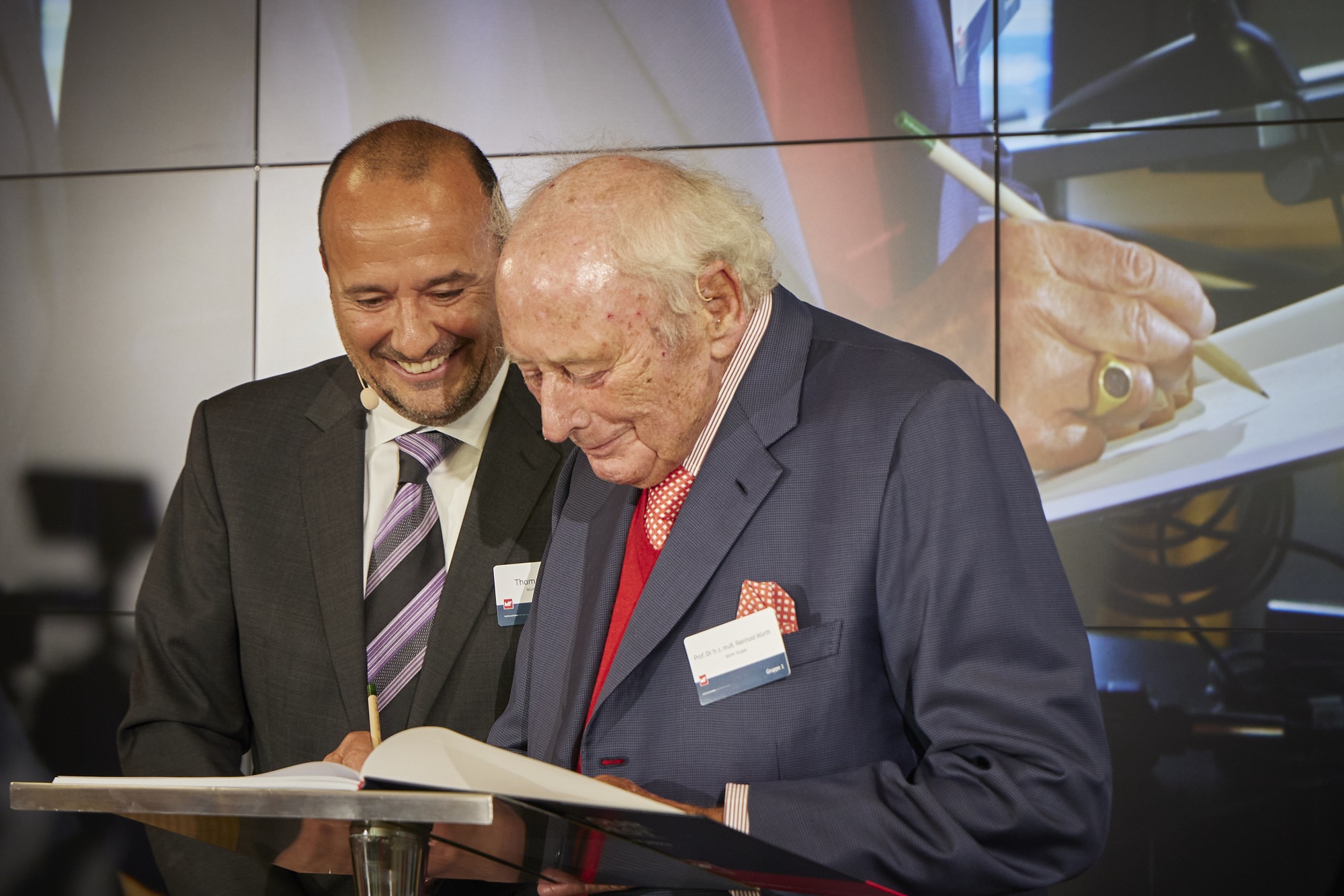 Albert Füracker, Minister of State for Finance and Home Affairs, conveyed congratulations from the Federal State of Bavaria and expressed his thanks for the investment, which serves to strengthen the region. "Family businesses think in generations, not quarters."