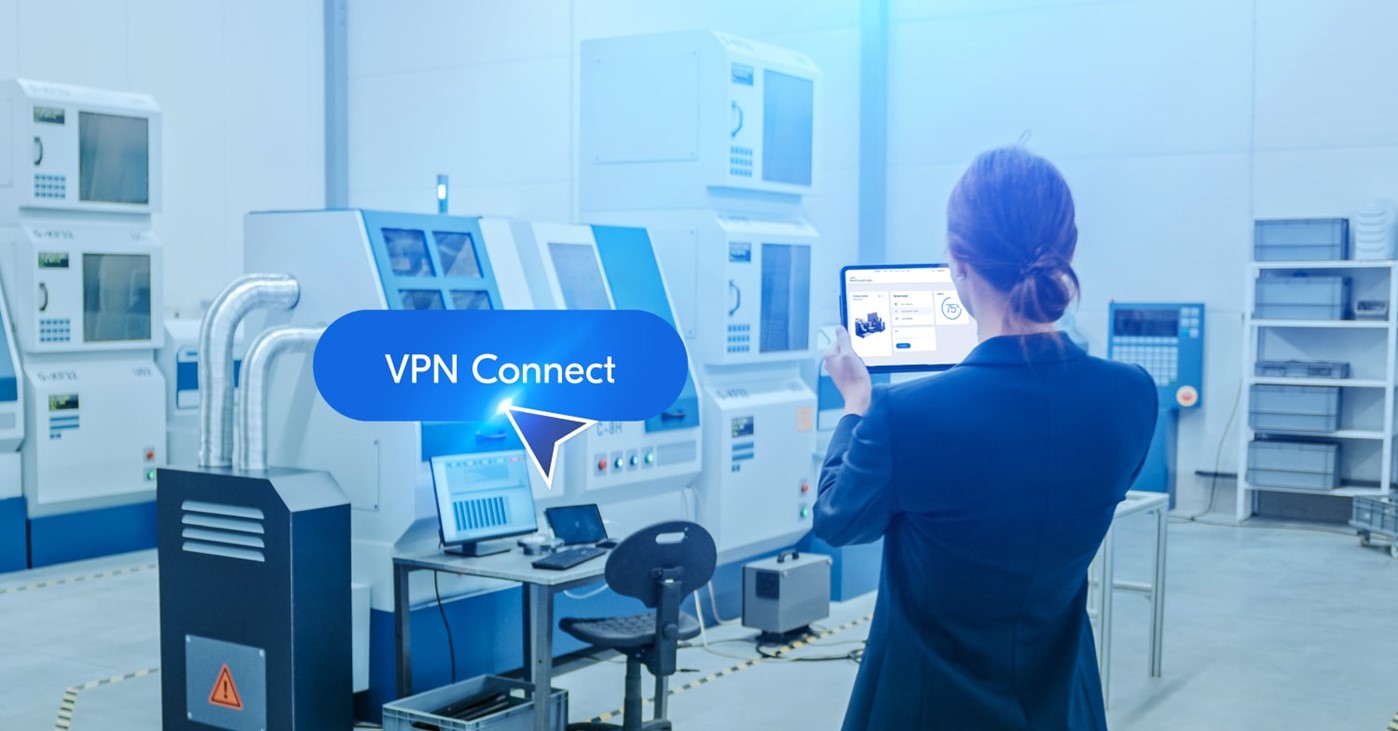 Door:
IXON B.V.
The adoption of connectivity and remote VPN access has seen a significant increase over the last two years, as Industry 4.0 technologies proved critical for business continuity. 
Remote access is a simple, inexpensive starting point for Industry 4.0 implementation. It's a trend that's been developing for over a decade, which has been cemented as an industry standard over the past few years. But there's more to gain.
Below you'll find 21 expert articles with tips about industrial remote access, best practices and concrete next steps to progress your digital transformation.
List of topics
What are the benefits of industrial remote access?
Industrial remote access provides instant connectivity to machines anywhere, at any moment. You can respond quickly to operational issues, minimise machine downtime, and reduce engineers' time and costs for travelling.
The ability to remotely access your machines and equipment that are not in your physical presence brings several advantages for machine builders and their customers in terms of efficiency, savings and uptime. The main benefits are:
Faster problem solving with less costs
With remote access you can instantly connect with your machines in the field to resolve machine failures from any location. Travelling can be reduced up to 90% and ROI can be achieved from the first saved service trip.
Increase efficiency with less impact on projects
Remote access tools create flexibility for your engineers. They can work more efficiently since they can service machines in production without leaving their location, so ongoing and new projects are not impacted.
Uptime improvement
Remote access allows you to update software programs without interrupting production, to get insights when replacement of worn parts is needed and to advise operators to prevent recurring failures in the process, which results in increased machine uptime.
Recommended reading
Why it's important that your remote access solution is secure
As more and more equipment gets connected to the internet and machine software becomes more complex, the risk of cyber attacks grows and the impact becomes bigger. Machine builders must protect their customers and themselves and have a basic understanding about security when using remote access. Also the remote access solution should meet minimum security requirements.
Recommended reading
Practical examples of remote access applications
Setting up a VPN connection to access PLC software is a well-known and widely used application of remote access. However, the technology behind remote access is much broader and allows for many more possibilities. Different remote operations provide other benefits and add value to your existing service portfolio.
Prepare maintenance visits 
Consult PLC logs remotely to find which spare parts you should bring when visiting your customer for machine maintenance.
Remote inspections
IP-cameras provide live footage to remotely investigate machine issues. Inspect running machines, or inaccessible or unsafe parts of the machine.
Screen sharing for remote assistance
HMI panels give valuable insights into the machine's state. By sharing the screen, you can easily support a remote engineer with data insights for troubleshooting or maintenance purposes.
Remotely support operators
Use Augmented Reality in combination with remote access to help the local machine operator solve issues quickly or to commission new machines.
Recommended reading
The next steps beyond remote access
There are countless ways to implement industrial remote access and make it more profitable. When you start collecting data to get valuable insights and combine it with additional features you can even get more out of it. Stay relevant for your customers, design a better version of your machines and work towards a more proactive service approach by taking one of the following steps.
Machine performance analysis
Visualising data is essential to monitor and analyse it, for example, for determining the condition of wear and tear parts, to predict breakdown or to optimise machine performance.
Business models
Would you like to optimise your cash flow and gain competitive advantage? Remote access and data form the base for new business opportunities such as field service optimisation and SLA validation.
Proactive alerts
Set up alarms that trigger when a deviation in the machine occurs. The service engineer or operator on site can act to resolve the issue straight away, reducing unplanned downtime. With proactive alarms that inform you ahead of an unwanted event, you can even start offering service proactively.
Recommended reading
What to look for when choosing a remote access solution
Do you know what features you really need in a remote access solution? Is the solution you're currently using efficient and reliable? And does it allow you to maintain business continuity now and tomorrow?
We've listed 5 key needs to look for when you decide to choose for a remote access solution or if you consider to switch to another one:
Ease of use
Make sure your remote access solution allows for easy configuration and comes with an intuitive interface so it saves time for users. A big plus would be if no additional software is needed, so it requires less maintenance and updating on your side.
Multi-device accessibility
To offer full support from anywhere, at any time, the solution should allow instant remote access via desktop, smartphone and tablet. A web-based platform enables you to do so.
Not limited to just VPN connections
To get full control of your machines and data insights from remote, the solution should offer multiple types of connections to access PLC, HMIs, IP-camera or web servers from robots.
Options to scale up
Ensure your solution is built for growth and fits your maintenance strategies. Does it offer features that allow for data collection, alarming and analysis? Is it possible to integrate with third party tools or are you stuck with just the features your solution offers? Think upfront about your potential needs and make sure your solution is open and flexible enough for the unknown future.
Excellent security
The amount of cyber attacks is increasing and they can cause great damage. To ensure top security a remote access solution should at least include the following security must-haves: strong encryption, secure password management, advanced user access control and ISO 27001 certification.
Does your remote access solution include these key features? Great! If not, maybe it's time to explore new solutions and potentially make the switch to a solution that does.
Recommended reading
Reliable and user-friendly remote access
IXON Cloud makes remote access simple with an easy-to-use Industrial IoT platform. The platform and connectivity hardware are secured by design and the solution offers every essential feature to connect, analyse and get more out of your machines and services:
A single web-portal to manage all your machines
Time-saving Plug & Play setup of the IXrouter – no additional software needed 
Fast and reliable VPN, VNC, HTTP and Websocket connection
No license fees and extensive access control
No-code setup of PLC data logging, dashboards and alarms
A dedicated team of experts for business innovation, custom integrations, support and security.
Start now with standardising easy and secure remote access using the IXON solution, and expand with additional data services whenever you're ready.