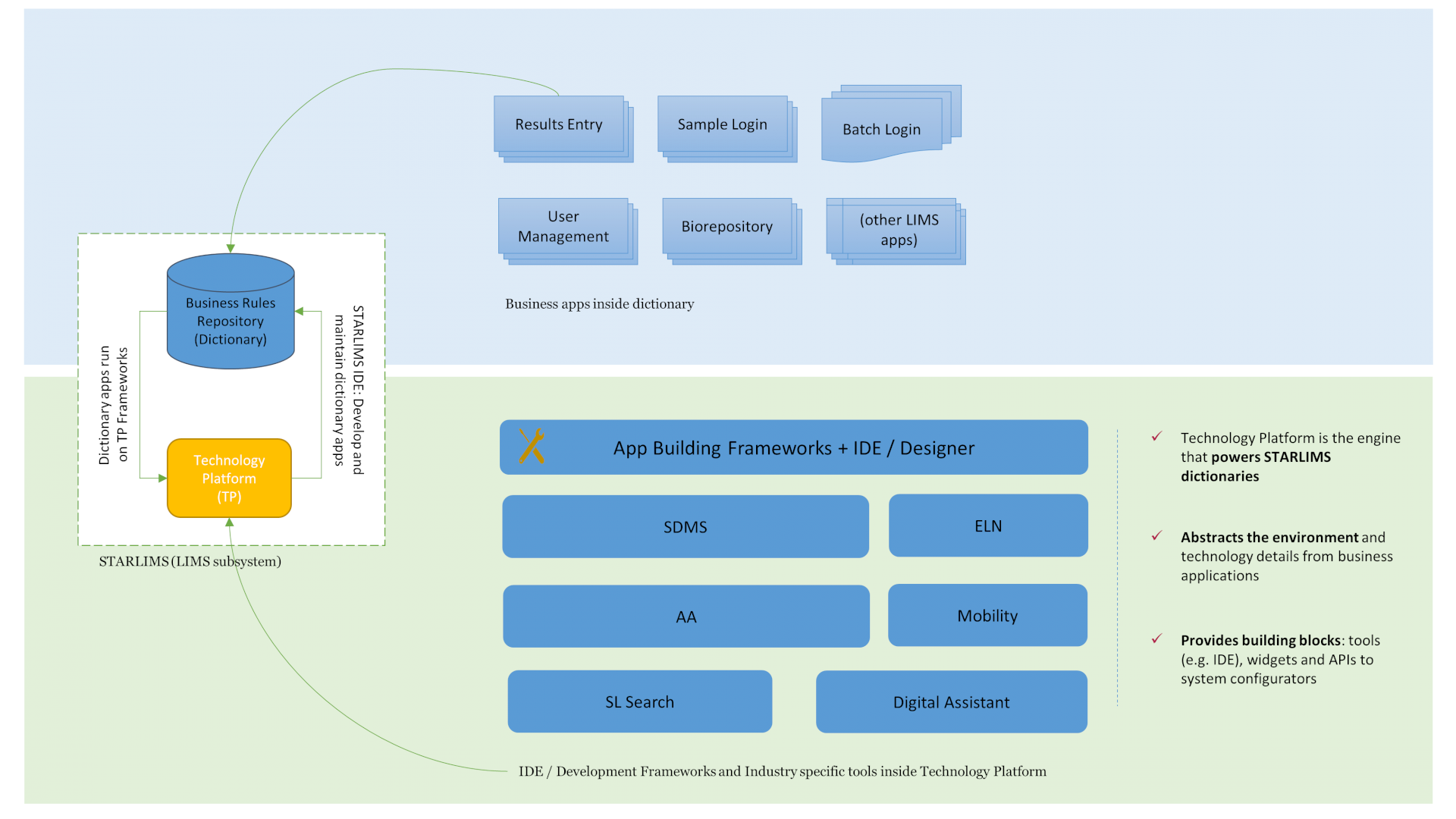 Door:
Abbott Informatics
Abbott Informatics is proud to announce the availability of the STARLIMS Technology Platform v12. This milestone in the evolution of the Technology Platform (TP) brings numerous enhancements and fixes that will help with the proper operation and maintenance of your STARLIMS system. 
WHAT IS THE TECHNOLOGY PLATFORM? 
STARLIMS Technology Platform is the foundation of your STARLIMS system. It contains the mechanisms and systems necessary to decouple the business applications implementation, from the details of operating systems, browsers and data base systems. STARLIMS users are always entitled to a complimentary upgrade to latest version of the Technology Platform per the maintenance contract. These upgrades to the STARLIMS system are necessary to keep the system in compliance and alignment with the latest IT and industry regulations and best practices.
WHAT'S NEW IN TECHNOLOGY PLATFORM V12? 
Technology Platform v12 delivers a whole new set of functionalities to your STARLIMS system. This is perhaps the most innovative release since the release of XFD and HTML5 frameworks. These are the main highlights of technology platform v12: 
DIGITAL ASSISTANT ENGINE 
Take advantage of voice-based commands and natural language processing and add a new way to interact with your LIMS system. The Digital Assistant Engine that comes pre-built into TP v12 adds all the necessary tools and services for you to develop voice-based skills for any business application. This is the technology for the lab of the future! 
CODE LAYERING 
Code Layering is finally here! This unique technology allows STARLIMS systems to capture changes done to system entities such as dictionary scripts, forms and other objects in isolated containers called layers. Your modifications to system applications will be captured automatically in a new layer, therefore will not overwrite factory provided applications. The layering unification engine, implemented behind the scene, will offer a unified view of the dictionary, so that existing applications will work uninterrupted. 
MULTI-FACTOR AUTHENTICATION 
If security is at the center of your organization or if IT is pushing for the implementation of multi-factor authentication (MFA) to all informatics systems, then this TP release is for you. STARLIMS MFA implementation require users to verify their identity via a secondary mechanism such as email or SMS. 
SAML SUPPORT 
Security Assertion Markup Language (SAML) is the new standard for implementing single sign-on across various systems within organizations. If your IT demands STARLIMS to support SAML, then this request can be easily satisfied through a simple upgrade to TP v12. 
SSO SUPPORT FOR NATIVE APP 
STARLIMS has supported single sign-on for quite a while now, but not for the Native App. More and more customers have the need to use the Native App in combination with their XFD based system. With this new TP release, the native app also has support for single-sign-on. 
NEW UNIFIED INSTALLER FOR STARLIMS BRIDGE AND NATIVE APP 
Both HTML5 and XFD systems are now getting a new installer for the Bridge and Native App component. The new installer is no longer dependent on Internet Explorer. In addition, it allows system administrators to push it to workstations via regular IT mechanisms. 
REST API FRAMEWORK 
This framework is a new addition to the collection of frameworks included in the TP. The REST API framework is used internally by STARLIMS products but also made available to customers. With this framework you can go beyond existing APIs provided by STARLIMS and expose more functionality as a series of REST based APIs. 
REST EXTENSIONS FOR SYSTEM INTERFACING 
With this new addition, the System Interfacing mechanism from Technology Platform is now able to consume REST based APIs provided by 3rd party systems. It is a new way to achieve enterprise integration by completing a few configurations. 
VIRTUAL PDF PRINTING FOR SDMS 
When this feature is enabled and configured, STARLIMS will be able to capture and process printer output directly into SDMS. Users will be able to redirect to SDMS the printer output not only of regular instruments but also of other scientific software running on lab workstations. 
INSTRUMENTATION / PERFORMANCE MONITORING 
You asked for more capabilities to debug and maintain your STARLIMS installation. With the introduction of a new instrumentation framework you'll be able to trace and monitor the execution of various web requests in order to properly scale your STARLIMS system. 
SUPPORT FOR CRYSTAL REPORTS 2016 
After upgrading to TP v12, customers are able to develop their own Crystal Reports using the new CR 2016 version. 
VARIOUS SECURITY AND BUG FIXES 
One more reason to upgrade to TP v12 is to benefit from the latest fixes in the area of security, performance and HTML5 usability. 
CONCLUSION 
Keep your STARLIMS system current by upgrading now to TP v12. With so many innovative features packed into this release, we're sure that you'll find a reason to accelerate the upgrade.