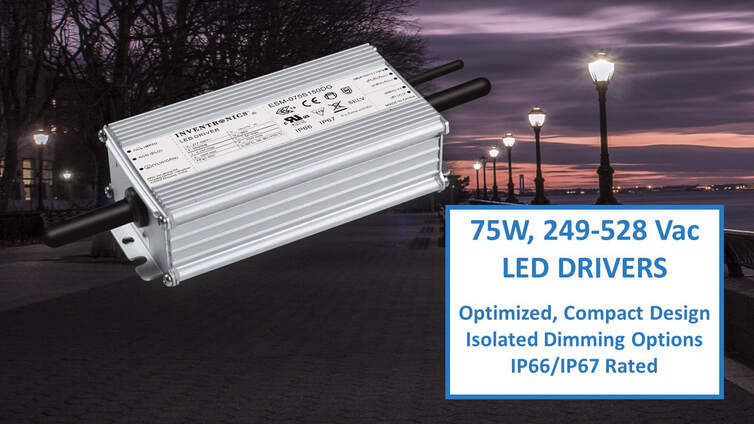 Door:
Alcom Electronics B.V.
The ESM-075SxxxDx from Inventronics offers three programmable models delivering the full 75W of power at a wide output current range from 700-2100mA. Their programmable interface and constant-power operation allow for in-house customization without the need of powering on the driver. Their compact design gives OEMs added design flexibility and allows them to fit inside a multitude of luminaires. They operate from 249-528 Vac and utilize the latest platform with an enhanced transformer design, optimized components and a more compact form factor.
Features:
High Input Voltage: 249 – 528 Vac
Programmable, Without the need of Powering on the Driver
Isolated Dimming Controls:
 1-10V, PWM, Multiple Timers
High Level of Built-in Surge Protection:
 6kV DM, 10kV CM
Output Lumen Compensation
End-of-Life Indicator
SELV Output Models Available
IP66 and IP67 and UL Dry, Damp, Wet Location
UL Class P
TYPE HL, for use in a Class I, Division 2 Hazardous
5 Year Warranty
Alcom Electronics publiceert wekelijks nieuwsberichten op haar eigen website en op de website van het FHI. Wilt u op de hoogte blijven van al ons nieuws of bent u juist geïnteresseerd in een specifiek product?  Maak dan een keuze uit een van onze productgroepen om de nieuwsbrief te ontvangen die het dichtst bij uw interesses past. Weet u nog niet zeker wat bij u past? U kunt te allen tijden uw interesses aanpassen. Onze Alcom Tips4Designers wordt maandelijks, twee-maandelijks of per kwartaal verstuurd.