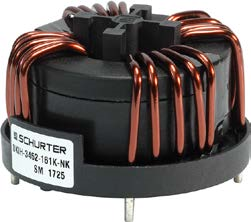 Door:
Alcom Electronics B.V.
Schurter expands its successful range of current-compensated chokes with a series for 4-wire high-current applications on printed circuit boards. The new DKIH-4 series is available for three phase applications with neutral line at rated currents from 10 A to 40 A. Due to the open design, the chokes are particularly compact and light.
Like most electronic assemblies, the power section is increasingly being mounted on the printed circuit board with discrete components. However, due to the high integration density required to achieve a compact design, thermal problems can arise due to the high currents on the PCB. EMC interference can affect adjacent modules due to the lack of spatial separation. Therefore, a compact filter on the PCB with discrete components is often the best solution. A current-compensated choke with capacitors is the most efficient method of suppressing EMC interference. The new DKIH-4 series is suitable for three phase applications  with neutral line from 10 A up to 40 A .
Compact size and light weight
Open design for optimal cooling
Nanocrystalline ring cores
Customer specific pin configurations available
Technical Data:
Rated voltage 500/760VAC/VDC
Rated Current 10 – 40A @ Ta 40 °C
Rated inductance 0.75 – 6.5mH, Tol. -30% +50%
Power Operating Frequency 0 – 400Hz
Terminal Type THT
Weight 100 – 165g
Material: Housing UL 94V-0
Test Voltage 500V: 2150VDC, 2sec, winding to winding 760V: 3300VDC, 2sec, winding to winding
Climatic Category 40/100/21 acc. to IEC 60068-1
Allowable Operation Temp. -40°C to 100°C