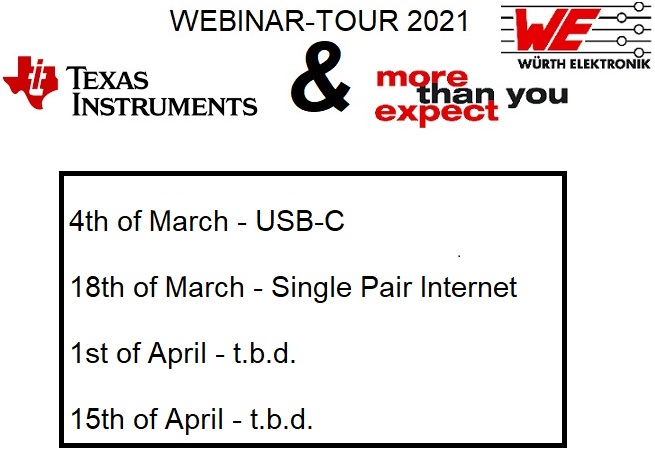 Door:
Würth Elektronik NL B.V.
We are pleased to invite you to a free technical Webinar tour of Texas Instruments, one of the world's leading IC-manufacturers, and Würth Elektronik, one of the largest European manufacturers of inductive components.
Because of the international character of the webinars, they will be held in English!
In total we have four webinars planned. The first one will take place on March 4th and the second one two weeks later on March 18th. Both start at 14:00 hours (CET time zone). 
Please find below all relevant information for the first two Webinars and click on the date and title to start the registration process. 
 
4th of March -- USB-C
USB Type-C™ enables the transfer of data, video and power over a single cable and connector. This Webinar will help you demystify Type C/PD applications and highlight the advantages of using USB type C. We will start with the most basic Type C applications and work our way up to full featured Type C and PD applications with a systems approach.
Any high-speed data interface is susceptible to noise but it can also create noise and issues on other parts of your design. Also, the connector choice and its connection to the PCB is critical as is the layout. We will talk about the most important considerations around your USB™ Connector and your EMI filter design.
Signup directly for the webinar!
18th of March – Single Pair Ethernet 
In the areas of Process, Building and Factory automation the demand for higher bandwidth communication is increasing. Single-pair Ethernet (SPE) can easily increase network bandwidth and reach in complex networks, while meeting intrinsic safety requirements. In many cases existing wires can be used. The DP83TD510E from Texas Instruments helps designers implementing SPE on cables with varying characteristic impedances and lengths.
For Single Pair Ethernet according to IEEE802.3, safety requirements according to IEC62368-1 are valid. These correspond to a test voltage of 1500V/60s. 50 V isolation capacitors which are commonly used for automotive Ethernet applications cannot fulfil this requirement. The presentation shows examples and detailed measurements for the filter design from connector to PHY chip to fulfil all requirements regarding signal integrity and safety according to IEEE802.3cg (10BASE-T1) and IEEE 802.3bw (100BASE-T1).
Signup directly for the webinar!
On 1st of April and 15th of April we will host two more webinars together. More details and an invite will follow later.
Each Webinar will take about one hour. There is room to ask questions afterwards.
All our webinars will be recorded and hosted on our YouTube channel.
We hope to welcome you all for this online Webinar tour! Meanwhile, keep safe and stay healthy!
Follow our linkedin page to stay updated on all our activities: https://www.linkedin.com/company/wuerth-elektronik-nederland-b-v/