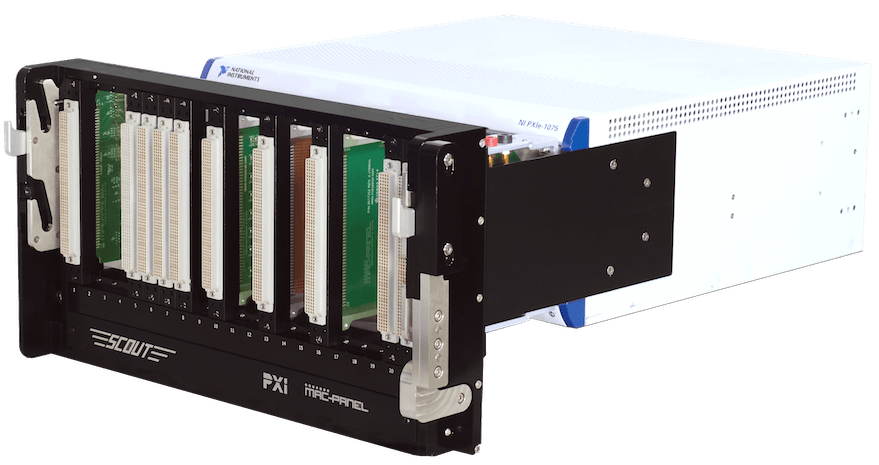 Connecting the DUTS - innovative pull-through Mass Interconnect solution
Do you need to connect your NI PXI system to your DUT? Of course you do, and MAC Panel might be there to help.
The SCOUT mass interconnect from MAC Panel was developed to maximise the performance potential of PXI based ATE systems. By eliminating cable harnesses between the PXI/PXIe instruments and the system interface, SCOUT offers unprecedented outright signal performance and stability when compared with traditional designs that relied on cable harnesses. Also, by eliminating cables, system design, build and maintenance is massively simplified. MAC Panel is proud to be working in partnership with CNRood exclusively to support our customers in the Benelux and Nordic regions. Please get in touch to see how cable free interface solutions can enhance your PXI ATE investment.


What is SCOUT?
SCOUT is an innovative pull-through Mass Interconnect solution specifically designed to deliver the full performance potential of the PXI platform at the ATE interface. SCOUT, featuring DAK (Direct Access Kit) connectivity, enables system designers to limit or eliminate traditional instrument cables by replacing them with DAK connection modules that utilise PCB, flex-circuit or short wire connections.


SCOUT Benefits
Shortest Electrical Connection from PXI Chassis to Mass Interconnect System
Ease of System Integration/Maintenance
Eliminates Conventional Wiring Harnesses
Best Overall Electrical Performance


Datasheet
Visit our website to download the MAC Panel SCOUT Mass Interconnect System datasheet.