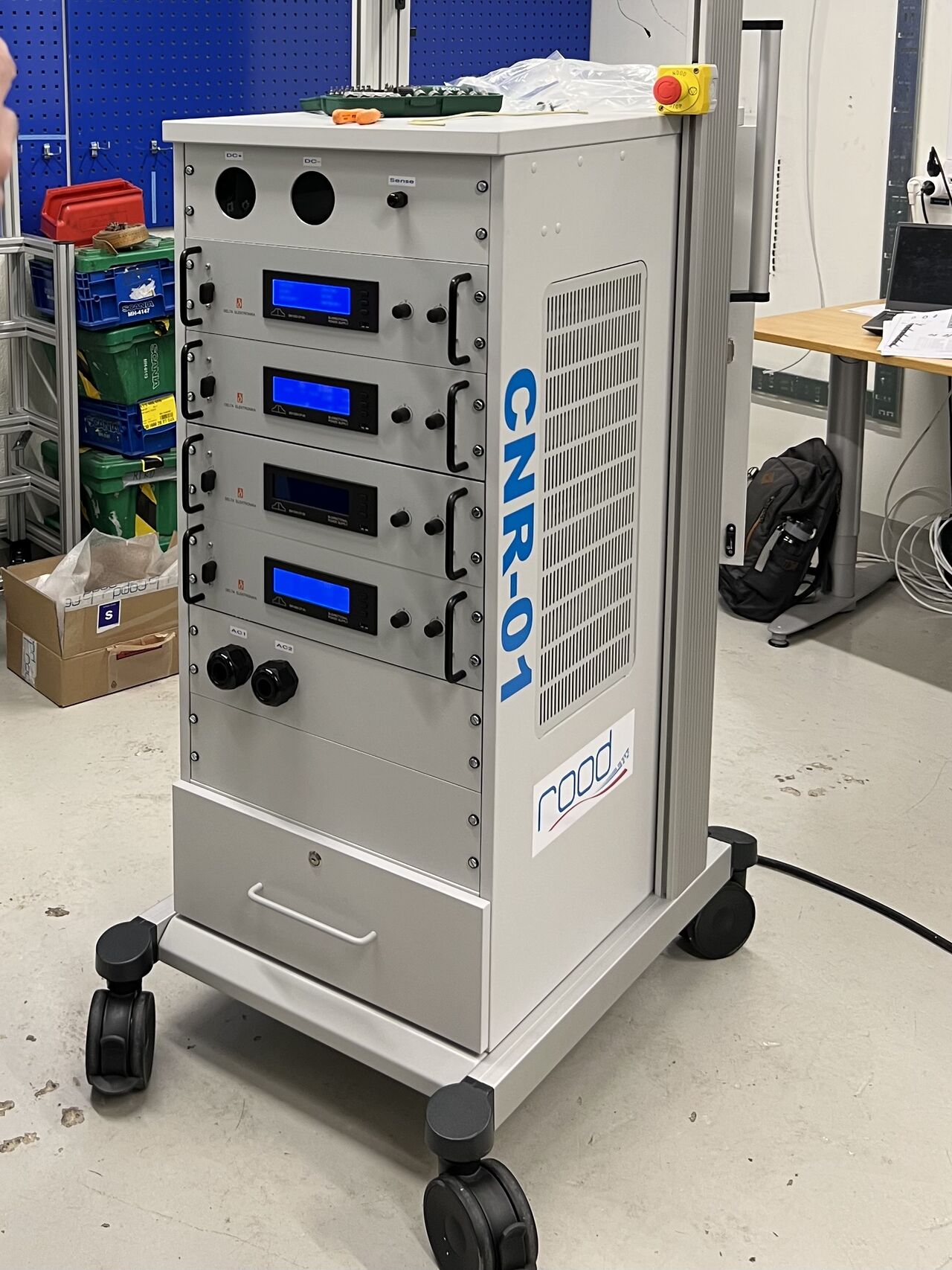 Customized 60kW bidirectional DC simulation system ready in six weeks
For testing DC inverters and drive systems for trucks and heavy machinery, our customer was looking for a DC simulation system. To meet the requested specifications of minimum 1200V DC output, maximum 60kW and bidirectional option, a custom solution was needed.  We spoke to Samuel Bondeson, account manager at CN Rood, about the realization of this project and how it was possible to deliver this solution in only six weeks!
From question to solution
The customer contacted CN Rood with their requirements and CN Rood immediately saw the possibilities to realize such a solution.
Samuel Bondeson: "After an initial Teams meeting we showed some solutions that we had already build. The customer was very enthusiastic about the flexibility and upgradeability of the presented systems. After the meeting, we were in close contact with the customer's engineering department to determine their exact needs. Together with Peter Strayer, technical support engineering of Delta Elektronika in The Netherlands, the technical solution was presented, including the remote control software, the DC voltage control and several standard safety features of the SM1500-CP-30."
Realisation of the 60kW DC Simulation system
After the approval, CN Rood was ready to build the solution together with their partners Elabo and Delta Elektronika.
Samuel Bondeson: "The DC Simulation system is built with four units of the SM1500-CP-30, Delta Elektronika 1500V/15KW bidirectional regenerative power supplies. With these four units in parallel, we can supply a total of 60KW of power to the DUT. Due to the regenerative power supply the electricity costs are reduced. Our partner Elabo has designed and customized a trolley that is adjusted to the weight of the four power modules and stable enough to be used in a flexible lab environment. Of course, safety is a very important part of this solution. To ensure the safety of the users, we have installed emergency stops, interlocks and a secure DC bus.  The interlock is connected to the door at the back of the trolley but also to the door of the lab, DUT to ensure the highest security that can be achieved in a flexible test environment."
Delivery of system in 6 weeks including on-site configuration
Thanks to the collaboration with its partners, CN Rood was able to deliver the system in 6 weeks, including onsite configuration by the CN Roods team led by Thomas Bloem.
Samuel Bondeson: "The customer was positively surprised by the result and the fast delivery, but also by the fact that we not only shipped the system, but also assembled it on-site and provided a full explanation of the configuration and software control. A second identical system is currently being planned. This can be used as a separate system or connected in parallel to achieve 120KW.  This flexibility to use the M/S2 modules and even expand them beyond 120kW was also a major plus for the customer.
For more information, please contact CN Rood