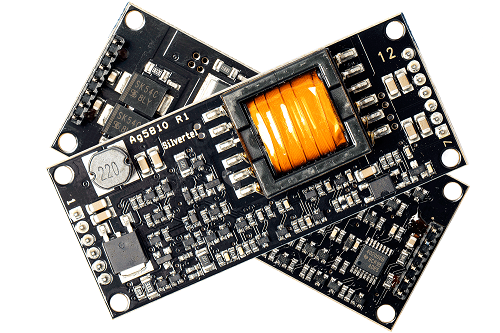 60W IEEE802.3bt compliant PoE
Ag5810 is a Type 4 – Class 7 PD, which provides 60W of power by displaying the correct class pulses to a IEEE802.3bt PSE. A complete high efficiency DC/DC converter is included, that generates a nominal 12V or 24V output, which can be programmed down to 11V, or up to 30V, this is especially useful for applications requiring the inclusion of battery chargers.
Additional features include 1500V isolation (input to output), overload, short-circuit and thermal protection. This latest product from Silvertel rounds off their IEEE802.3bt range which includes the Ag6800: a 97W PSE (Power Sourcing Equipment) module; and the Ag5800: a PD module capable of delivering 85W. Suitable for applications such as WiMAX access points, PTZ cameras, notebook computers, IP cameras, LED lighting, intelligent displays and thin client terminals.
Benefits:
With increased power, designs become even more complex, usually taking several months. Ag5810 makes the design easy – it will take just 1 day!
Other designs will take a large amount of PCB board space. Our design is engineered to be very small, and so it will save space.
First to market – this is the first complete 60W embedded solution in the market.
Features:
IEEE802.3bt Type 4 compliant
60 Watt Output Power
Very small size
High efficiency DC/DC converter
12V or 24V output adjustable
1500V isolation (input to output)
Input voltage range 36V to 57V
Low output ripple and noise
Minimal (low cost) external components required
Overload, thermal and short-circuit protection
Design-in assistance