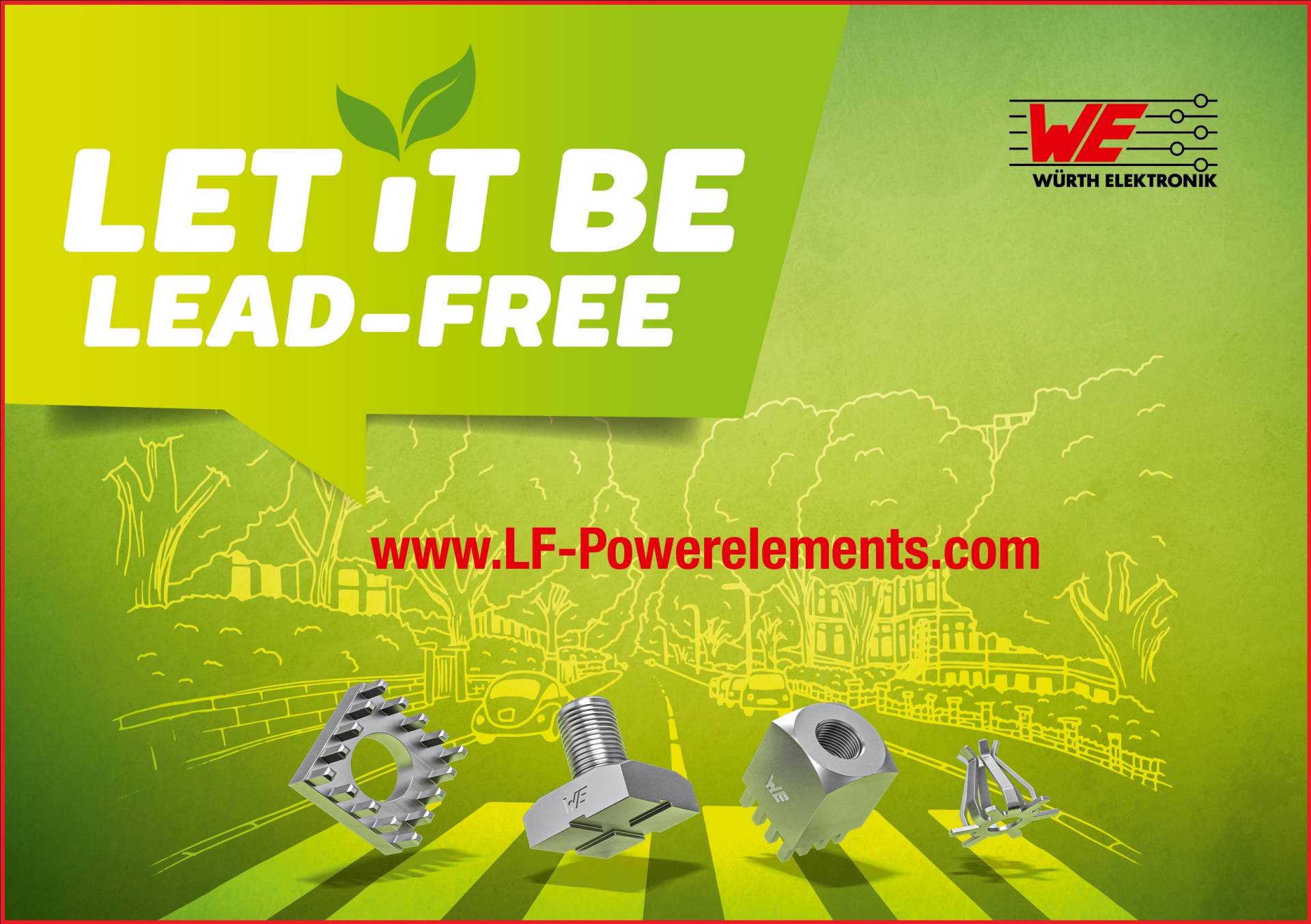 Lead-free High Current Contacts now available from Würth Elektronik ICS
Lead-free High Current Contacts now available from Würth Elektronik ICS
Let it be – lead-free: the inventor of Powerelements shows the way
Niedernhall (Germany), 19 November 2020 – With LF Powerelements, Würth Elektronik ICS has launched a comprehensive range of lead-free solutions on the market. The company developed Powerelements for PCB contacting using press-fit and soldering technology in the 1980s and offers now components that use zero leaded brass. A large number of new standard versions of the lead-free High Current Contacts are now available in the Powerelement Online Shop. Alongside its standard portfolio, Würth Elektronik ICS also offers customers the option of developing customised lead-free versions of its products to meet whichever criteria they require. This means the company is implementing EU environmental requirements ahead of time and creating investment and design security for its customers.
The RoHS Directive has seen lead taken out of circulation as a material for quite some time now, with a few exceptions. According to exemption 6c (in Annex III of the RoHS Directive), 'copper alloys with a mass content of up to four per cent lead' are permissible. As it stands, this exemption is set to expire on 21 July 2021.
"The exemption will presumably be extended due to the numerous requests that have been made to the EU Commission responsible. Irrespective of this, we have decided to make our contribution now and offer lead-free Powerelements," explains Werner Nast, Product Manager at Würth Elektronik ICS. "Many of our customers' projects have a total life span lasting several years from development to end of life. The lead-free Powerelements enable our customers to set themselves up for a sustainable future. Plus, they avoid cumbersome re-qualifications and ensure process reliability for new developments. That is why many well-known OEMs are already demanding lead-free products and we can meet their needs with our lead-free Powerelements."
Portfolio
At the beginning of the 'LET IT BE LEAD-FREE' initiative, Würth Elektronik ICS analysed the common market applications and developed a standard product portfolio of lead-free High Current Contacts. The results of this analysis and development process are component variants that are designed to cover the widest range market requirements possible. The standard product portfolio is available on Würth Elektronik ICS' Powerelement Online Shop, where interested parties will also find technical information on lead-free products and can request free samples.
"If our customers have any special requirements, then we are more than happy to help them and provide customised lead-free solutions," says Nast.
New production process
Using lead as a minor component of approximately three per cent for machining brass (CuZn39Pb3) ensures good chip breaking and easy lubrication. This reduces friction and less heat is generated during the machining process. Würth Elektronik ICS has developed an adapted production process and, with LF Powerelements, also proved in the corresponding qualifications that it is possible to manufacture and successfully use high-quality components that do not contain lead.
Lead-free high-current contacts - sustainable and future-proof (we-online.com)