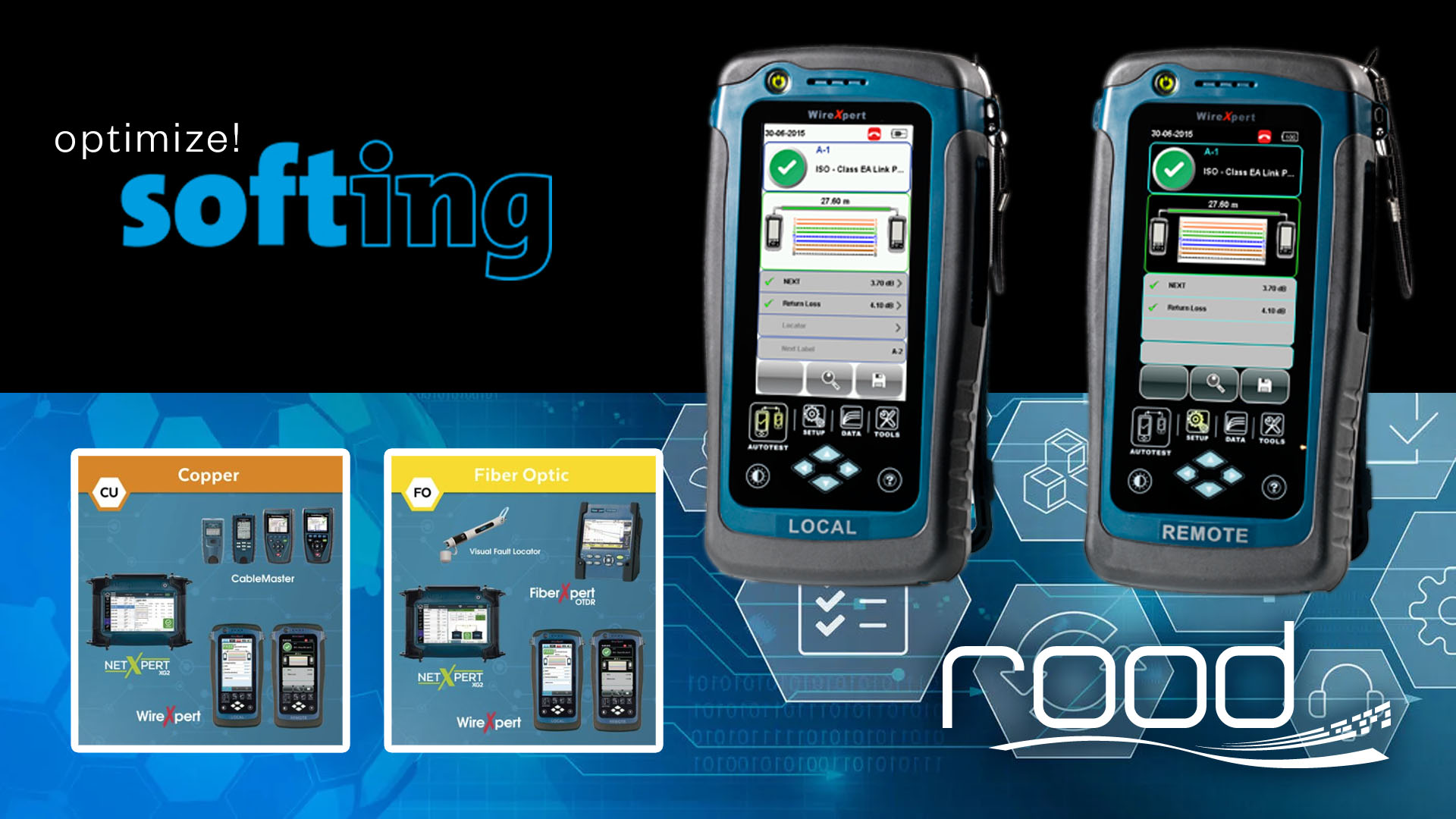 CN Rood distributor of Softing IT Networks measurement equipment for fiber and copper networks
From now on, CN Rood is an official distributor of Softing IT Networks products in the Benelux, Nordics and Baltics. Softing IT Networks is specialized in measurement equipment for testing, qualifying, certifying and documenting the performance of copper and fiber optic IT cabling based on global technology standards. Whether in telecommunications, databases, mainframes or installation technology in the field of industrial automation, Softing IT Networks' professional measurement equipment helps you optimize the performance of your data communications through faster, more secure connections throughout the life cycle of your network.
With the rapidly growing and all-encompassing networking of people, things and services, powerful and reliable IT networks have already become the backbone of our modern world. The failure of such network infrastructure can lead to data loss and is almost always very costly. This is why it is so important to prevent unplanned network outages. To enable this and ensure a quick response in case of network failures, installers, system integrators and network administrators need access to powerful and professional measuring equipment. Softing IT Networks measurement equipment enables physical efficiency and high quality communication between network components.
Benny Polleunis, CEO CN Rood: "Softing IT Networks' products are a perfect complement to our networking portfolio. We offer the industry tools to build but certainly also maintain networks. With Softing IT Networks' products, we are even better able to offer a broad portfolio of measurement products. Softing IT Networks' products and service are of a high standard. CN Rood's staff has also received very extensive training. You can tell from everything that Softing IT Networks stand for quality and they demand the same from their distributors. In that respect, we are a good match."
Alejandro Hume, VP International Sales EMEA, Softing IT Networks: "At Softing IT Networks, we are very proud that CN Rood has become one of our distributors for the Benelux, Nordic and Baltic countries. We are confident that its excellent reputation, together with its broad market expertise, product portfolio and local presence in each country, makes CN Rood the perfect channel to deliver our Test & Measurement offering to all segments of the market that need to install and maintain IT Networks. The Softing group and its Germany-based IT Networks division has a reputation for building high-quality innovative products backed by robust and highly qualified technical support, technology and product training, and close customer care, all of which perfectly match the CN Rood approach as well, so we look forwards with the highest expectations and excited for the future!"
For more information: