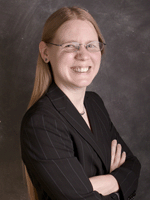 Invitation lecturer Talk on "Unintentional Antennas"
We invite you for a distinguished lecturer Talk on "Unintentional Antennas" by Ms. Karen Burnham. The talk will take place at KU Leuven Bruges campus on the 5th of June, Monday, 10h30-12h in room 05.10. Attending is free of charge, but please register through this link.
Short Abstract
One of the biggest causes of EMC test failures is radiating structures in a unit, whether from the PCB or cabling, that are acting in ways designers never intended. 
This talk covers basics of antenna theory and how to identify potential radiating "antennas" in your product.
Ms. Karen Burnham Bio
Karen Burnham is a Principal Scientist at Electro Magnetic Applications in Denver, CO.  She is an iNARTE certified EMC engineer with experience in both the aerospace/defense and automotive industries.  At NASA JSC, she worked on the Orion spacecraft and pyrotechnic systems.  She was able to work on the Dream Chaser spacecraft and the F-35 fighter jet.  She spent several years working at Ford Motor Company on traditional vehicles like the Ford Edge and Lincoln Continental as well as on their line of electric hybrid vehicles such as the Ford Explorer and Lincoln Aviator.  

Ms. Burnham is a member of the IEEE EMC Society Board of Directors where she serves as Assistant Vice President of Standards.  She holds a BS degree in Physics from Northern Arizona University and an MS degree in Electrical Engineering from University of Houston.