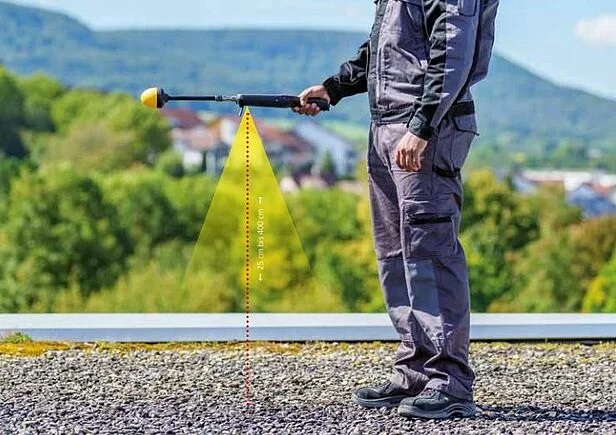 Narda FieldMan – With ultrasonic distance meter
The ultrasonic distance meter of the Narda electromagnetic field meter precisely measures the height above ground where the FieldMan is being operated, which makes the exact positioning of the measuring device much easier.
The measurement is accurate to within one centimeter, with a capture angle of 15 degrees and a range of 25 cm to 400 cm. The measurement units can be set to meters, inches, feet or yards. Separate measurement with a ruler is therefore no longer necessary.
For a better overview, the measurement results can be assigned to freely definable projects, which is particularly helpful when the measurement locations change frequently. If you want to document your measurement results with photos and videos, the FieldMan smartphone app will help you. For example, the app wirelessly transfers media files created with the smartphone to the project directory on the FieldMan SD memory card. A newly developed, extremely powerful PC software "Narda-TSX" is available for documenting the measurement results, media and other information. It is Narda's new software platform for device configuration, measurement data evaluation and documentation, which in addition to the FieldMan will also support other Narda products in the future.
More information please visit the product page.