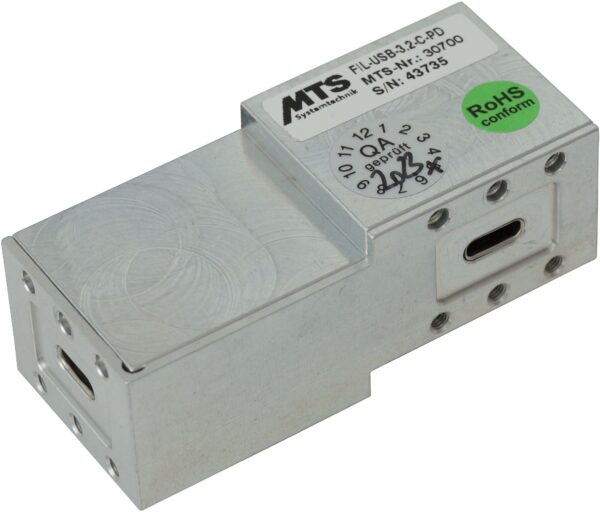 New Filter Modules for USB 3.2 and LAN PoE++
New USB 3.2 and LAN-PoE++ filtered Interfaces
MTS Systemtechnik GmbH developed two new EMC filtered interfaces for USB 3.2 or LAN for use in shielding boxes or shielding chambers.
FIL-USB-3.2-C-PD
---
This USB 3.2 filter module allows a nominal data rate of 20 Gbit/s and it also allows to supply end devices (UE's, femtocells etc.) under test via Power Delivery with up to 100 Watt in the shielded area. Conversely, it is also possible to bring a tablet- or laptop computer into the shielded area and operate the unit via this filter from outside the chamber or box. With a connected USB docking module (additionally required), external devices such as an HDMI display with 4K maximum resolution, a USB keyboard and a USB mouse can be connected from outside, for exampleThe filter module can reduce interfering signals with an attenuation of typically 80 dB. This is important because of the danger of electromagnetic coupling of interference radiation that can exist on signal lines when the quality of shielding on the cables and devices connected to them is unknown.
The USB cables can be connected on both sides via a type C connector with 10,000 mating cycles max.
Datasheet 30700USB-3.2-C-PD
FIL-RJ45-PoE++
---
This LAN filter module has a nominal data rate of 1000 Mbit/s and complies with the IEEE 802.3bt standard, which enables the supply of end devices via Power-over-Ethernet (PoE). It can support devices as both Power Sourcing Equipment (PSE), which provides power, and Powered Devices (PD), which draws power. Maximum power is 71 watts for PD and 90 watts for PSE. Special filters for common-mode rejection effectively attenuate EMC interference signals on the signal lines. LAN cables can be connected via one RJ-45 jack on each side.
Datasheet 30800 RJ45-PoE
More information
---
Please contact us for more information