Nippon Chemi-Con Supercapacitor Module for Use in Large-Scale Equipment
Nippon Chemi-Con has developed a supercapacitor module for high-voltage and high-current applications. This product is characterized by the use of a capacitor cell that achieves low resistance and high capacitance (2.8V-3150F) to provide a module suitable for high current applications. Also, a high-voltage system can be easily constructed by using a package with 24 cells connected in series.
This module can also be used in series and parallel connections and can support up to 800V, when 12 modules are connected in series. The shape of this module is designed to be stored in 19-inch racks, which are easy to obtain and come in numerous variations. Nippon Chemi-Con can provide configurations optimized for various parameters.
Furthermore, the module is equipped with a voltage balance circuit to maintain uniform conditions for each cell and sensors for detecting overvoltage and overheating. This module is designed to operate safely in large-scale power storage systems requiring high reliability.
Rated Voltage: 67.2 [V]
Connected max voltage: 800 [V]
Max allowed current: 5,000 [A] (Per module)
Capacitance: 131 [F] + 20%/-0%
DC internal resitance: 12[mΩ] or lower
Outer size: W 485 x D 600 x H 246 [mm]
Mass: 30 [kg]
Safety design: Overvoltage sensor, overheating detector (thermostat), cell voltage balance circuit
Example applications
Output stabilizer in renewable energy power generation system
Voltage drop compensators for factory equipment
Peak assist for high-current manufacturing equipment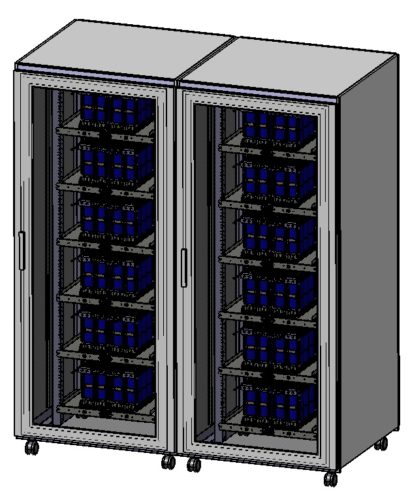 Rack configuration example (12 modules, 800V)
If you want more information or if you have any questions, please contact Nijkerk Electronics!