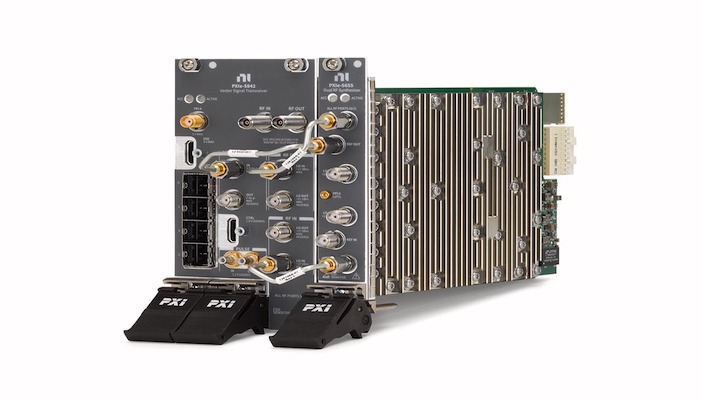 NI Expands Capabilities of the Third Generation Vector Signal Transceiver
Third Generation VST enables fast, high-performance, and versatile RF measurements for testing next-generation aerospace, defense, and wireless products
NI, an industry leader in automated wireless test and measurement, announced new options and extended capabilities for its third generation PXI Vector Signal Transceiver (VST), the PXIe-5842. Combined with NI's software ecosystem, the PXIe-5842 is a versatile tool that can be used to test and validate products in aerospace and defense applications while supporting traditional RF capabilities such as spectrum analysis, signal analysis, and signal generation.
Demand for increased RF bandwidth, frequency agility, dynamic range, and digital data movement is pushing traditional instrumentation beyond its current capabilities. NI's VST3, the PXIe-5842, is accelerating the development of the next generation of digitally integrated active Electronically Scanned Arrays (ESA) for radar, SatCom, and electronic warfare applications as well as commercial wireless applications such as Wi-Fi 7, 6G, Ultra-wideband (UWB) and Bluetooth.
The PXIe-5842 delivers precise control over signal parameters and real-time analysis with its extended frequency coverage from 30 MHz to 26.5 GHz. Enhancements also include up to 2 GHz of instantaneous RF bandwidth and upgraded Local Oscillator (LO) offset mode with improved average noise density. This version now enables digital and analog pulse modulation capabilities, and its 16-lane high-speed serial interface enables low-latency digital I/Q data streaming at rates up to the full 2 GHz IBW of the instrument, with futureproofing to 4GHz. When combined with PXI-based FPGA co-processors from NI, the third generation VST can emulate RF environments or other RF devices for system level tests. These new capabilities build upon the flexibility and versatility of the PXIe-5842, are useful for generic RF testing and are particularly suitable for aerospace and defense applications.
"Next generation radar, electronic warfare, and communications technologies require radically different methods than the status quo for validation and test on tight schedules," said Luke Schreier, VP and GM of NI's Aerospace, Defense and Government Business. "The performance we have unlocked in this third-generation vector signal transceiver is critical to future-proofing your test capability, exploiting the insight that comes from rich test data, and architecting a truly software-centric approach to electromagnetic spectrum operations. It is the culmination of decades worth of investment in PXI, RF technology, and software from NI designed to maximize your product's performance through test."
The capability expansions announced today are a testament to the PXIe-5842's versatility that also provides customers with the ability to build the next generation of wireless products. The PXIe-5842 delivers the performance necessary to support lab design and validation applications and incorporates the fast measurement speed and small form factor required to scale into production test applications. Additional Key Features Include:
Analysis- and Generation-only options
Baseband conditioning modes optimized for Wide Bandwidth or High Dynamic Range
Excellent phase noise performance
Best in class EVM measurements
High bandwidth digital RF data movement through high-speed digital serial links enable real-time, closed-loop signal processing as well as high bandwidth record to disk applications.
PXI modularity and scalability with excellent synchronization, allowing up to four PXIe-5842 modules in one 18-slot PXIe chassis
Same SW environment as other NI RF instrumentation, optimized for interactive and automated use cases.
For more information, contact CN Rood.