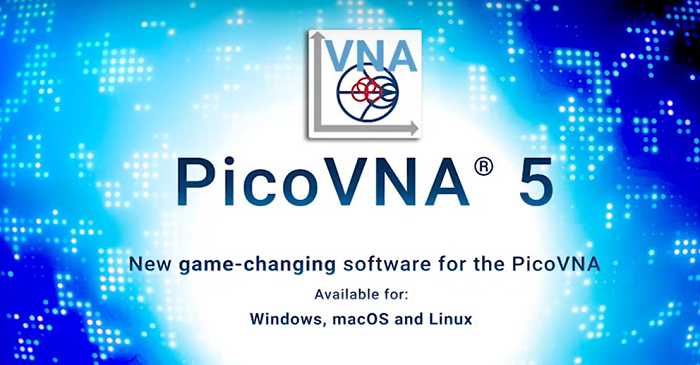 Pico Technology Launches PicoVNA 5 Software for USB-Controlled Vector Network Analyzers
Pico Technology has announced the release of the PicoVNA 5 software. This groundbreaking software platform is specifically designed for PicoVNA vector network analyzers, delivering exceptional performance and usability. Compatible with Linux, Windows, macOS, and various devices including PCs, Macs, and Raspberry Pi 3, PicoVNA 5 offers a cross-platform solution with a lightweight footprint.
With PicoVNA 5, users can expect a seamless and intuitive experience for their VNA applications. The software provides real-time visualization of measurements, instrument status, and controls, offering a clean and focused interface for optimal results. Utilizing an innovative drag-and-snap viewport grid, users can arrange measurement plots across multiple individually sized and positioned plot channels. This flexibility allows for a customized and clutter-free display, regardless of monitor size and resolution.
The software incorporates on-plot parameter controls, enabling direct and intuitive access to various settings such as sensitivities, offsets, reference positions, and sweep or time domain parameters. Users can easily switch between plot types, including Log, lin, Smith, polar, phase, and more, to focus on specific views. Convenient on-trace cursor readouts provide precise marker measurements with a single click, allowing for quick and accurate data analysis. Advanced editing options for markers, including type, position, grouping, and parameter readouts, further enhance the user experience.
PicoVNA 5 also introduces additional features within each plot, such as the ability to add a second axis, maximize the plot, add frequency or time span zooms, and utilize a live spy-glass magnified view. This allows users to closely examine impedance matching on a Smith chart and gain deeper insights into their measurements.
The software ensures high-quality visualization by employing vector or linear interpolation for displayed traces and marker readouts. Users have access to multiple interpolation options to optimize plot accuracy and measurement integrity for specific applications. Additionally, PicoVNA 5 supports network remote and mirroring operation, catering to today's hybrid, hardware-sharing, and collaborative working environments. Offline working without a connected instrument is also fully supported, allowing users to analyze data derived from PicoVNA or any other TouchStone source.
For OEMs, embedded systems, and test system integrators, PicoVNA 5 offers comprehensive programmer command and retrieve access. The software facilitates fast data transfer, utilizes familiar SCPI commands, and enables multiple simultaneous UI access points. Pico provides a range of SCPI and advanced API SDK examples for popular programming languages such as Matlab, Labview, Python, C, C#, and C++, available on GitHub.
PicoVNA 5 supports all existing calibration methods, including SOLT, Automated E-Cal, TRL/TRM, and unknown Thru. The software features graphical calibration wizards with step-by-step connection diagrams for easy setup. Users can perform manual calibration standards with live calibration measurement plots to identify any unexpected connection issues or damage during the process.
The software offers extensive capabilities, including network de-embedding, reference plane offset, setup saving with user options for recall, and data export in various formats such as raw ab-wave, calibrated .csv, or Touchstone (RI, DB, and MA). Importing Touchstone V1 or V2 files with different span or points spacing is also supported.
For more information, please contact CN Rood.