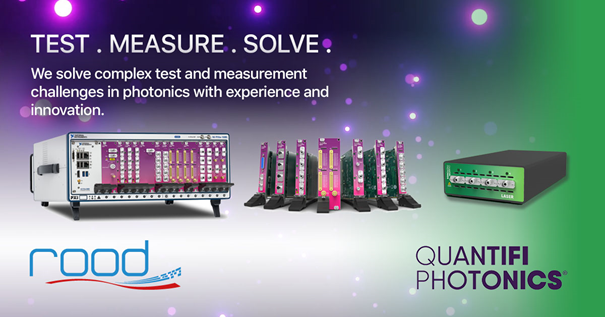 Quantifi Photonics added to CN Rood portfolio
From today, CN Rood is offering Quantifi Photonics' solutions. Quantifi Photonics offers a comprehensive portfolio of photonic test solutions that can be configured to test a wide variety of photonic devices. Quantifi Photonics empowers businesses with cost-effective, high-density and high channel solutions (from R&D to manufacturing), quick custom solutions, and automated options to gain a competitive edge in photonics.


Quantifi Photonics is a premier provider of photonic test solutions for industries like data centers, high-performance computing, and AI. They specialize in testing various photonic devices, from silicon photonics to co-packaged optics and pluggable optics. Their extensive instrument portfolio comes in flexible form factors, including benchtop and rack-mountable designs, and the open-standard PXI format. These instruments can be easily controlled through intuitive interfaces (like LabVIEW or MATLAB), making integration into workflows a breeze.

Benny Polleunis CEO at CN Rood: "With the addition of Quantifi Photonics, we broaden our portfolio with Test & Measurement solutions for the photonics industry. Quantifi Photonics is a perfect fit for CN Rood in part due to the close cooperation with our partner NI (National Instruments). As a result, we can now offer PXI test solutions for photonics, both optical and electrical test modules. We look forward to working with Quantifi Photonics and all engineers active in the photonics industry!"


Kees Propstra, VP Marketing and GM Quantifi Photonics USA Inc.: "Europe is home to an important and rapidly-growing Integrated Photonics ecosystem. We're investing in the region to help progress the photonics industry to the next level and have been looking for a trusted partner to help support our customers. Choosing to partner with CN Rood was an easy decision due to their reputation for quality service, strong sales track record, extensive customer network and world-class sales engineers. We're excited to work with the CN Rood team to support and engage with new customers in the BeNeLux, Nordics, and Baltics regions."

For more information:
www.cnrood.com
www.quantifiphotonics.com