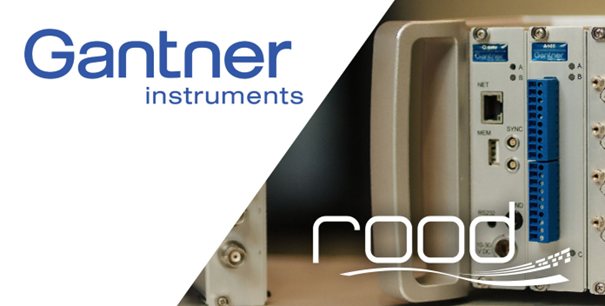 CN Rood and Gantner Instruments announce partnership for Data Acquisition Solutions
CN Rood, a leading provider of test and measurement solutions, is pleased to announce a partnership with Gantner Instruments, a provider of data acquisition and monitoring technology. This partnership brings CN Rood's expertise together with Gantner Instruments' advanced data acquisition systems to provide the best possible solutions.
The partnership allows CN Rood to offer a wider range of data acquisition tools, expanding capabilities in various industries, including automotive, energy and aerospace. Gantner Instruments' data acquisition systems complement CN Rood's existing equipment and services, offering integrated solutions to meet customers' needs.
"We are happy to join forces with Gantner Instruments, a company known for its innovation and reliability in the data acquisition field," said Benny Polleunis CEO at CN Rood. "This partnership aligns perfectly with our commitment to delivering a broad portfolio of high quality test and measurement solutions to our customers."
"CN Rood's extensive expertise in test and measurement is set to elevate our capabilities in Northern Europe. This partnership will allow both companies to combine their unique strengths, resources, and expertise to support customers with high-quality data acquisition solutions and exceptional service. At Gantner Instruments we look forward to the collaboration with CN Rood as we jointly advance the field of testing and monitoring." - Stephan Ploegman, Head of Business Development
About CN Rood
CN Rood is a leader in knowledge and solutions in the field of test and measurement equipment. Since 1938 we distinguish ourselves with a personal and customer-oriented approach. We think along with, advise and assist our customers in making the right choice in their test and measurement equipment. Amongst others we work for government, science, education, aerospace and automotive industries in the Nordics, Baltics and the Benelux where we have local presence. More than forty dedicated professionals work on solutions ranging from communication test equipment and general test and measurement instruments to data acquisition equipment and logistics automation, complemented by consultancy, training and turnkey solutions. To learn more visit www.cnrood.com
About Gantner Instruments
Gantner Instruments specializes in the precise measurement of mechanical, thermal, and high-voltage quantities. With its innovative measurement solutions, Gantner Instruments has evolved since its establishment in 1982 into a globally recognized player in the data acquisition systems market. The company is now a highly sought-after global partner with locations across Europe, the USA, India, China, and Singapore. Gantner's state-of-the-art technology is extensively utilized for testing and monitoring applications in the mobility, aerospace, civil engineering, oil & gas, and renewable energy sectors. To learn more visit www.gantner-instruments.com