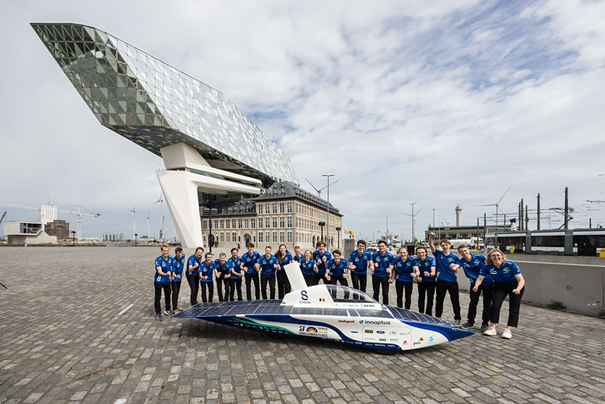 Innoptus Solar Team uses Tektronix MSO 2 for debugging
The Innoptus Solar Team is comprised of 20 dedicated engineering students aiming to create an innovative, high-tech solar car. Since its inception in 2004, the team has continuously worked on refining their designs and production processes, with this year marking the creation of their anniversary solar car. Ebert Kiekens, electronics engineer at Innoptus Solar Team, shared their collective goal: "Our goal is to defend the world title in Australia, we would like to bring the cup back home again with the solar car we built this year. We are proud of the result and therefore look forward to where its performance will be."
World championship in Australia
The competition in Australia presents a challenging task of driving the solar car from Darwin to Adelaide, covering a formidable 3021-kilometre route through the Australian Outback. Having won the world championship previously, the Innoptus Solar Team is determined to defend their title against strong contenders from the Netherlands, the United States, and Japan. The world championship event is scheduled to take place from 22 to 29 October.
Driving 900 km without sun
Throughout their development process, the team has placed great emphasis on enhancing collaboration between mechanics and energy-related aspects. Ebert Kiekens explains, "We have streamlined the outside more and we have ensured better capacity. For instance, we made a battery pack that allows our solar car to drive 900 km without the sun shining. We have also continued working on our own engine. We now have an efficiency of 98%, which is better than Tesla's engines. Especially the implementation of the high-capacity battery pack had its challenges."
Debugging with Tektronix 2 series MSO
To achieve seamless integration of the various smart modules within the solar car, the Innoptus Solar Team relies on the Tektronix 2 Series MSO for debugging purposes. Ebert Kiekens praises the device, saying, "The Tektronix 2 Series MSO is a great device. It is very convenient that when you are working on the car, you no longer need a power cable as it has a battery attached. Furthermore, it also has many applications so we can always solve our problems with it!"
Excellent cooperation with CN Rood and Tektronix
The team expresses their utmost satisfaction with the collaboration with CN Rood and Tektronix, as they have provided valuable support and guidance throughout the process. Ebert Kiekens shares her thoughts on this collaboration: "The collaboration with CN Rood/Tektronix is great, we received a full day's explanation of the material we are allowed to use and learned a lot from it, so that working with the Tektronix went very smoothly. We can also contact them at any time, so that's very nice!"