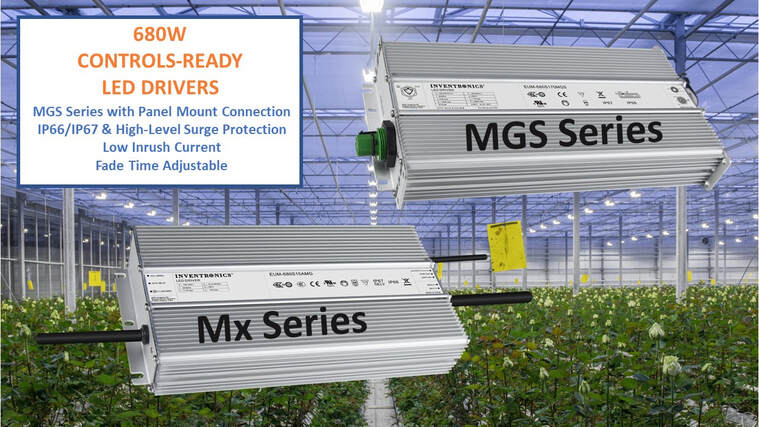 Door:
Alcom Electronics B.V.
Inventronics expands their high-power, 680W LED drivers and introduces new models that provide even simpler installation for new facilities or retrofit and lower installation costs. These drivers deliver Controls-Ready features, programmability, an optimized thermal design and a reliable, superior performance.
The EUM-680SxxxMx and MGS series are designed with noteworthy built-in protection ideal for the more robust application conditions typically found in horticulture, stadium and high mast applications.
Main Features:

Panel mount connectors facilitates installation
Brackets accommodates variety of hanging applications
Ultra High Efficiency (Up to 96.0%)
Full Power at Wide Output Current Range (Constant Power)
Adjustable Output Current (AOC)with Programmability
Isolated 0-10V/PWM/3-Timer-Modes Dimmable
INV Digital Dimming, UART Based Communication Protocol
Dim-to-Off with Standby Power ≤ 0.5 W
Minimum Dimming Level with 5% or 10% Selectable
Maximum Dimming Level with 9V or 10V Selectable
Fade Time Adjustable
Always-on Auxiliary Power: 12Vdc, 250mA
Low inrush current
Output Lumen Compensation
End-of-Life Indicator
Input Surge Protection: DM 6kV, CM 10kV
All-Around Protection: IOVP,IUVP, OVP, SCP, OTP
IP66 / IP67 and UL Dry / Damp / Wet Location
TYPE HL, for use in a Class I, Division 2 hazardous (Classified) location
5 Years Warranty