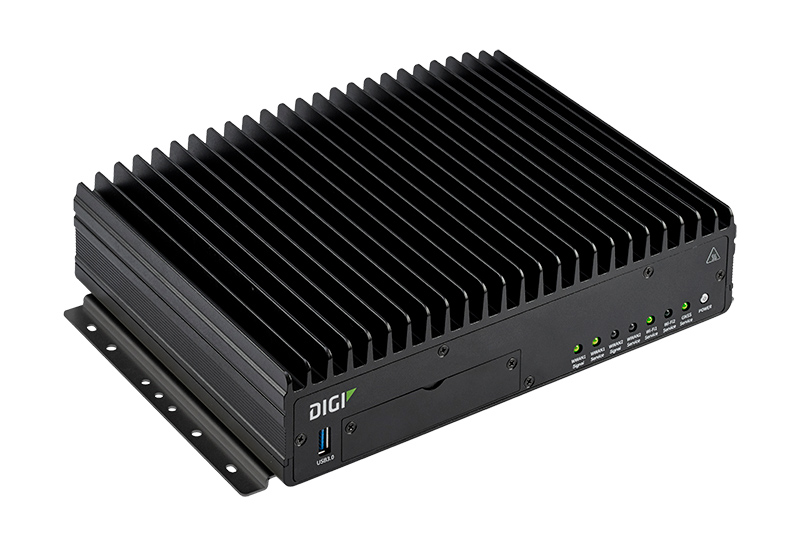 Door:
Alcom Electronics B.V.
Ideal for challenging transportation and mobile environments, Digi TX64 is a 5G and 4G LTE-Advanced Pro cellular router with true enterprise class routing, security, firewall and integrated VPN. It offers a flexible interface design with an integrated Wi-Fi access point, USB, serial and 4-port Ethernet switch, as well as a variety of configuration options including dead reckoning GNSS and Bluetooth®.
The Digi TX64 5G Rail offers these key advantages:
Centralized Management – Thanks to Digi Remote Manager, customers remotely monitor and control device configuration and management with complete security and edge intelligence – all from a remote desktop, tablet, or smartphone.
High Performance and Redundancy – In addition to 5G connectivity with 4G failover and a quad-core 64-bit processor, the router includes four M12 gigabit Ethernet ports, and two gigabit Wi-Fi 5 radios.
Ruggedness – The rugged aluminum enclosure includes TNC connectors; shock and vibration resistance that meets MIL-STD 810G; EN50155 certification; an industry-leading extended temperature range; and vehicle power plus ignition sense.
Security – Integration with Digi TrustFence® provides secure code, ports, and protocols with continuous security monitoring through the device lifecycle.
Reliability – With the 5G cellular radio, dual SIMs, failover, all running on Digi Accelerated Linux, the Digi TX64 5G Rail delivers superior reliability.
Click here for more information
Alcom Electronics publiceert wekelijks nieuwsberichten op haar eigen website en op de website van het FHI. Wilt u op de hoogte blijven van al ons nieuws of bent u juist geïnteresseerd in een specifiek product?  Maak dan een keuze uit een van onze productgroepen om de nieuwsbrief te ontvangen die het dichtst bij uw interesses past. Weet u nog niet zeker wat bij u past? U kunt te allen tijden uw interesses aanpassen. Onze Alcom Tips4Designers wordt maandelijks, twee-maandelijks of per kwartaal verstuurd.
Schrijf u hier in voor onze nieuwsbrief.
Volg ons ook op Social Media: