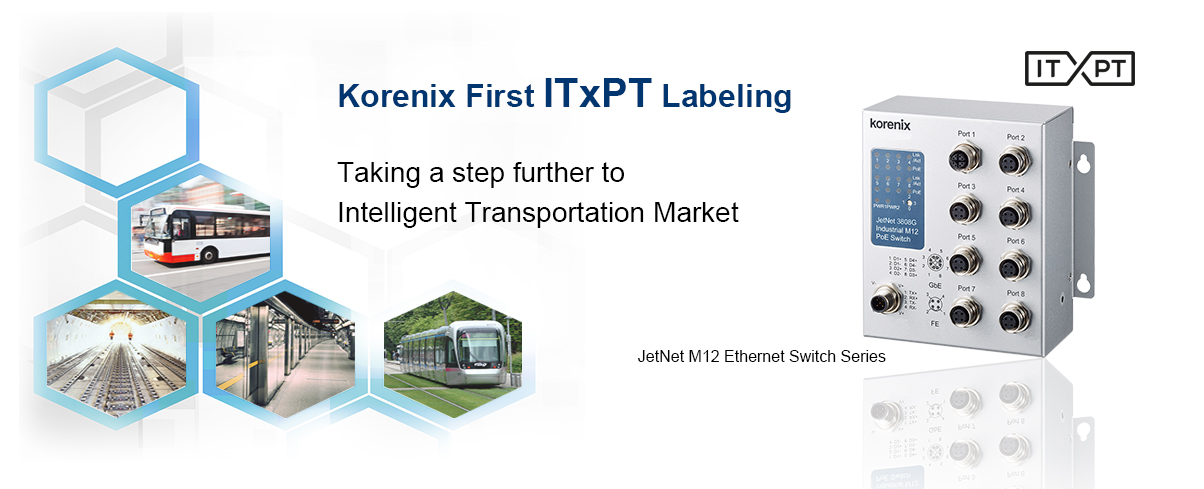 Door:
Alcom Electronics B.V.
Korenix's unmanaged Ethernet switches has received the ITxPT label. The ITxPT is a Belgium-based association open to public transport suppliers and manufacturers developing standardize and interoperable onboard and back-office IT systems for public transport. Korenix unmanaged ethernet switch JetNet 3808G-M12, JetNet 3908G-M12, JetNet 3508-LVDC, JetNet 3508G-LVDC have been tested and validated in accordance with the ITxPT specification S01 v2.1.0.
ITxPT, Information Technology for Public Transport is a non-profit organization with over 100 members consisting of Public Transport Operators and Authorities, System Suppliers and Vehicle Manufacturers. ITxPT applies EU standards to set up specifications for open IT architecture for public transport. By granting their ITxPT label, they confirm the system or devices reliability, compatibility and interoperability on public transport vehicles and systems.
Korenix Technology is one of the few industrial Ethernet switch manufacturers that has received ITxPT label.
1 Gigabit/PSE M12 X-code, 7 100M/PSE M12 D-code, M12-A Power
8 Gigabit/PSE M12 X-code, M12-A Power
Power feeding 15.4W/30W, compliance with IEEE 802.3af/at
Power System design with 120W PoE budget and compliance with safety requirement
Rugged M12 Ethernet, power connectors for vibration and shock application
IEEE 802.1p Class of Service (CoS) for packet forwarding precedence
10K bytes Jumbo Frame for large file transmission
Broadcast storm packet filtering
Embedded DC 54V Booster
Railway Standards: EN50155, EN50121-3-2, EN50121-4
Traffic Standard: E-mark E13
-40~75℃ operating temperature
Click here for more information
Alcom Electronics publiceert wekelijks nieuwsberichten op haar eigen website en op de website van het FHI. Wilt u op de hoogte blijven van al ons nieuws of bent u juist geïnteresseerd in een specifiek product?  Maak dan een keuze uit een van onze productgroepen om de nieuwsbrief te ontvangen die het dichtst bij uw interesses past. Weet u nog niet zeker wat bij u past? U kunt te allen tijden uw interesses aanpassen. Onze Alcom Tips4Designers wordt maandelijks, twee-maandelijks of per kwartaal verstuurd.
Schrijf u hier in voor onze nieuwsbrief.
Volg ons ook op Social Media: