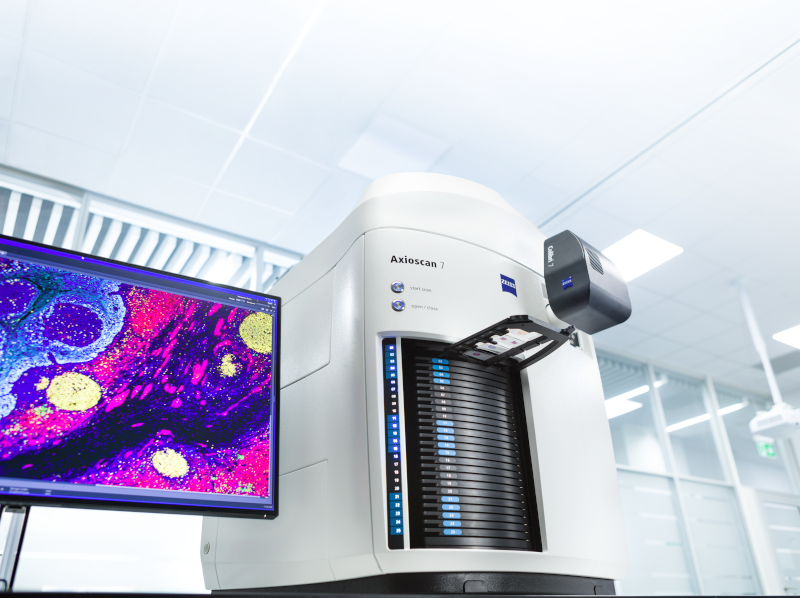 Door:
ZEISS
ZEISS Axioscan 7 is the microscopy slide scanner that combines high digitization speed and outstanding image quality with an unrivaled variety of imaging modes – all available in a fully automated and easy-to-use system. 
Learn more about ZEISS Axioscan 7 and its new features here!
What is new?
New Imaging Modes
In addition to brightfield and fluorescence, polarization as well as phase and relief contrast now offer even more application freedom.
New TIE Contrast
The new contrast method Transfer of Intensity Equation increases focusing speed and protects sensitive dyes from bleaching. It also allows to detect low-contrast tissues with ease.
New Editing of Focus Points
In addition to automatic focusing, Axioscan 7 now allows you to add, move and remove focus points to achieve high-quality scanning results even with challenging samples.
Improved Multispectral Fluorescence Imaging
Axioscan 7 employs swift and reproducible LED illumination, fast filter wheels, and a sophisticated filter concept to efficiently separate a broad range of fluorescence channels.
Improved Acquisition Speed
The acquisition speed for brightfield and multi-polarization has been increased significantly to support your demand for higher throughput.
Improved User Experience
ZEN Slidescan got a big usability update with new functions for easy scan profile creation and advanced customization – while remaining well integrated in the ZEN imaging environment with its powerful analysis, processing, and sharing capabilities.