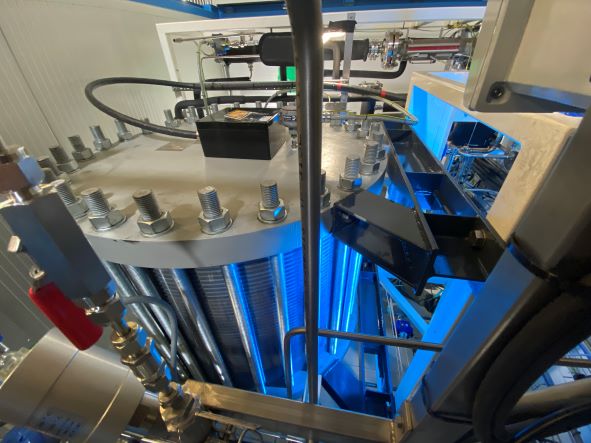 Door:
CN Rood
The electricity grid is under great pressure. We face the challenge of providing affordable and clean energy that is always available. Smart solutions are needed to keep up with growing energy demand and to cope with increasing intermittency of renewable energy sources. These smart solutions must provide additional capacity and storage to keep the grid stable. The technology of Battolyser© is such a technology. Battolyser Systems is currently working on a multi MW system that can both store electricity and produce green hydrogen. Thanks to the storage capacity the system can have electricity even when the sun is not shining or the wind is not blowing; and thanks to the hydrogen it is also possible to decarbonize sectors that can't easily electrify. We spoke with Rene de Milliano (project manager at Battolyser) about his company and the cooperation with CN Rood.
New possibilities for battery of Thomas Edison
The Battolyser system is based on the nickel-iron battery invented by Thomas Edison.
Rene de Milliano: "This nickel-iron battery had in the time of Thomas Edison the undesirable quirk of producing hydrogen once it reached a certain state of charge. In 2013 Prof. Dr. Fokko Mulder and his research group at Delft University of Technology saw the combined use as battery and electrolyser as an advantage. He and his team invented an efficient integrated battery and electrolyser - the Battolyser®. The Battolyser® can store and supply electricity as a battery. When fully charged it automatically starts splitting water into hydrogen and oxygen as an electrolyser with an efficiency of up to 90%. The system only uses Nickel and Iron electrodes, which are widely available at low cost, and have proven track record of 20+ years lifetime. The novel and ground breaking integration of these technologies remarkably improves performance, lowers cost and increases uptime. The system provides great flexibility, being able to follow the load profile of an renewable power source. It can turn power into hydrogen when electricity prices are low and deliver electricity back to the grid when electricity prices are high. The battery is used for short term storage of energy, the hydrogen is used for industry, transport or long term storage."
From start-up to scale up
To further develop and commercialise the idea of TU Delft, Battolyser was established as a company in 2018. Rene de Milliano: "We started with the development of a first pilot with a 15kW/kWh capacity, to be deployed at the Magnum power plant in Eemshaven In 2020, Koolen Industries invested in the company to further commercialise the technology. After that the developments went fast. A new CEO was appointed and the organisation started to grow rapidly to already 40 people. We are now in the process of developing multiple commercial 1MW(h) systems which will be ready in 2023."
Looking for reliable and flexible partners
The technology of the Battolyser is still under development, so things can change quickly. Rene: "We are really looking for partners who want to go along with us. CN Rood is such a partner. They have a lot of knowledge and are also very flexible too. CN Rood supplies us with Delta Elektronika power supplies. We have been very satisfied with the quality of these power supplies for years. If we are in doubt about which power supply we need, we can count on advice of CN Rood, but it also happens that we try different types to see which one best meets our needs."
For more information:
Visit the Battolyser Systems website